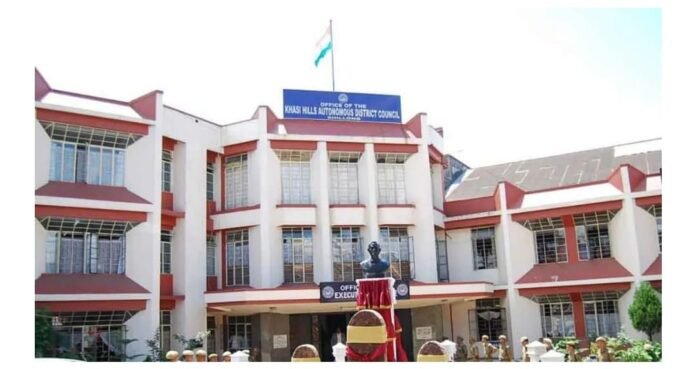 In a significant political development, the Khasi Hills Autonomous District Council (KHADC) in Shillong, Meghalaya, is set to witness a new Executive Committee led by the Khasi Hills Democratic Front (KHDF). This decision comes as a result of an alliance formed between the KHDF, the National People's Party (NPP), and the Congress.
The KHDF's ascendancy to power marks a notable shift in the political landscape of the region, and its formation of an alliance with the NPP and the Congress showcases a collaborative approach to governance. With this new Executive Committee, the KHADC aims to address the pressing issues faced by the Khasi Hills region and work towards the overall development and welfare of its residents.
The KHADC, as an autonomous district council, plays a crucial role in the administration and governance of the Khasi Hills area. The formation of a new Executive Committee signifies a fresh start, with the KHDF at the helm, ready to tackle the challenges and seize the opportunities that lie ahead.
The KHDF brings its experience and expertise to the table, having garnered the support and trust of the people through its policies and initiatives. The alliance with the NPP and the Congress reflects a broader consensus among these political entities, emphasizing the need for cooperation and collaboration to fulfill the aspirations of the region's populace.
The newly formed Executive Committee, under the leadership of the KHDF, is expected to prioritize key issues such as infrastructure development, healthcare, education, employment generation, and environmental conservation. By formulating comprehensive policies and implementing effective governance strategies, they aim to foster sustainable growth and improve the quality of life for the residents of the Khasi Hills.
Moreover, this alliance demonstrates the importance of political unity in achieving common goals. The collaboration between different parties signifies a shared commitment to the welfare of the people, transcending ideological differences for the betterment of the region.
As the KHDF takes charge of the KHADC, the expectations are high, and the spotlight is on their leadership to deliver on their promises. The people of Shillong and the Khasi Hills region look forward to witnessing the implementation of progressive policies and the efficient functioning of the Executive Committee, ensuring inclusive development and improved governance.
It remains to be seen how this new alliance, led by the Khasi Hills Democratic Front, will navigate the challenges that lie ahead and bring about positive changes in the lives of the people they represent. The coming months will serve as a litmus test for their leadership and ability to deliver on their commitments, shaping the future trajectory of the Khasi Hills Autonomous District Council and Meghalaya as a whole.