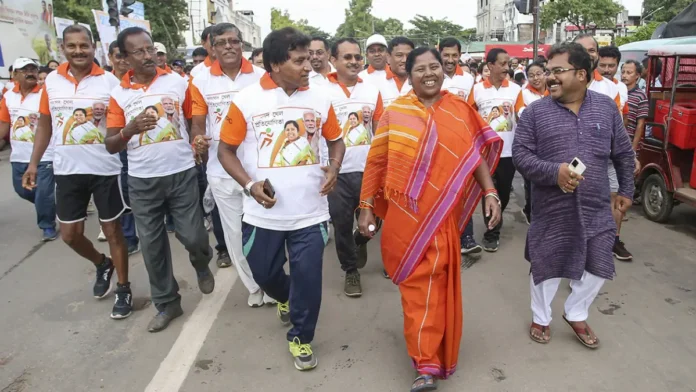 Union minister Pratima Bhowmik claimed that minority community people are safe in Bharatiya Janata Party (BJP)-ruled Tripura and there is no "ban" on religious practices in the northeastern state.
Addressing an event on Sunday evening at Bishalgarh in Sipahijala district, about 21 km from here, Bhowmik slammed the Communist Party of India-Marxist's (CPI-M) election campaigns ahead of the 2018 assembly elections, saying "if BJP If voted to power in the state, people from the minority community will be sent to Bangladesh.
Union Minister of State for Social Justice and Empowerment Bhowmik said, "Tripura is safe for the minority community and there is no restriction on their religious practices. The CPI(M) had started propaganda about four years ago in the last assembly elections that if the BJP wins the state elections, people from the minority community would be deported to Bangladesh. The truth is that today these people are free to follow their religious practices."
"The minority community people are free to offer namaz or perform their religious rituals and there is no ban on animal sacrifice in Tripura. The BJP does not discriminate when it comes to government benefits."
He also said that the BJP government has given due importance to women empowerment by making women financially self-reliant.
The Minister said that the Central Government has allotted four lakh houses under the Pradhan Mantri Awas Yojana and out of these three lakh houses have already been completed. He alleged that the state had got only 58,874 houses under the housing scheme till 2017.
The West Tripura MP, however, expressed hope that the BJP would register a "major victory in the Sepahijala district" in the 2023 Assembly polls where minority votes are decisive. Bhowmik had contested from the Dhanpur assembly seat in 2018 against the then Chief Minister Manik Sarkar but lost at that time.