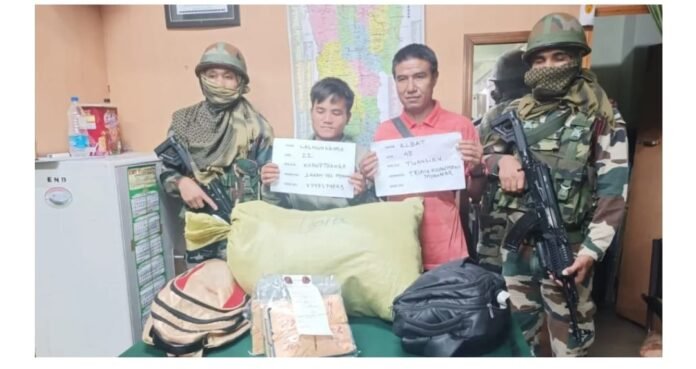 Aizawl, Mizoram: In a significant development, local law enforcement agencies in Aizawl successfully apprehended two Myanmar nationals who were allegedly involved in a major drug trafficking operation. The suspects were found in possession of a substantial quantity of heroin with an estimated street value of Rs 1.33 crore.
The operation, led by Mizoram's law enforcement authorities, unfolded in the capital city of Aizawl, underscoring their commitment to combating the illicit drug trade in the region. Acting on credible intelligence, a joint team comprising local police and anti-narcotics units swiftly carried out the arrest, showcasing the effectiveness of their coordinated efforts.
The two Myanmar nationals, whose identities have not been disclosed at the time of reporting, were apprehended during a targeted operation in a residential area known for its alleged involvement in drug-related activities. The diligent and precise operation led to the discovery and subsequent confiscation of a significant quantity of heroin, which is considered a high-value narcotic substance.
Preliminary investigations suggest that the seized drugs were intended for distribution within Mizoram and possibly to other parts of the country. Authorities are now intensifying their efforts to uncover the entire network involved in this illicit trade, aiming to dismantle the criminal organization responsible for the supply chain.
This successful operation is a testament to the close cooperation between Mizoram's law enforcement agencies and their counterparts in neighboring countries. Such collaborations play a vital role in countering transnational crimes and safeguarding the security and well-being of the region's residents.
Mizoram, located in India's northeastern region, has been proactive in its fight against drug trafficking, recognizing the serious threat it poses to society. The state government has consistently emphasized the need for stringent measures to curb the drug menace, and this recent arrest demonstrates their unwavering commitment to that cause.
The detained Myanmar nationals will be subjected to thorough interrogation, providing valuable insights into the larger drug trafficking network and potentially aiding in the apprehension of other individuals involved. Following due legal procedures, they will be held accountable for their alleged crimes, ensuring justice is served.
As Mizoram continues to combat drug trafficking and related criminal activities, this arrest sends a clear message that the state remains determined to protect its citizens and maintain law and order. It also serves as a reminder of the need for continued vigilance and collective efforts to eradicate the menace of drug trafficking from the region.