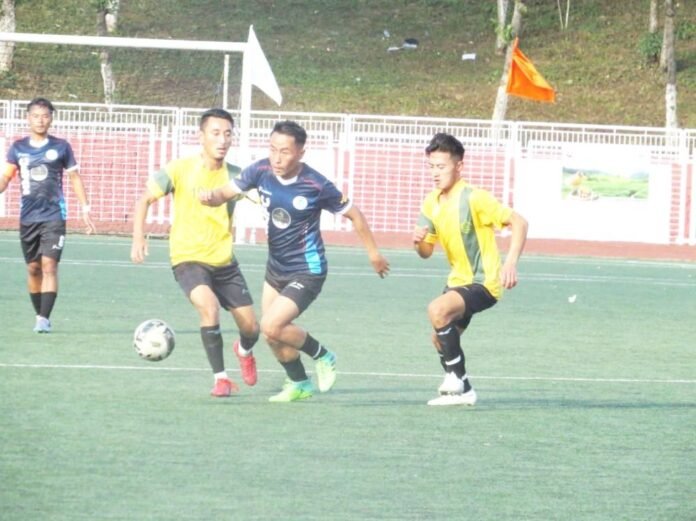 Kicking off with fervor and enthusiasm, the Kargil Martyr Memorial Football Tournament commenced in Nagaland, honoring the bravery and sacrifice of soldiers who fought in the Kargil War. The event, which holds deep significance in commemorating the valor of the Indian Armed Forces, has drawn teams from various regions across the state.
The tournament's inauguration witnessed a colorful ceremony filled with patriotic fervor and a moment of silence to pay homage to the brave soldiers who laid down their lives for the nation during the Kargil conflict. The event not only celebrates the spirit of sportsmanship but also serves as a poignant reminder of the sacrifices made by the armed forces.
Teams, comprising passionate players from different districts, showcased their skills and sportsmanship during the opening matches. The atmosphere was electric as supporters and spectators cheered on their local teams, displaying a strong sense of unity and sporting fervor.
More About The Tournament
The tournament's primary aim is to promote football at the grassroots level and provide a platform for young talents to exhibit their potential. By engaging in spirited matches, the tournament not only celebrates the sport but also serves as a platform to remember and honor the heroes who fought for the nation's integrity.
Local authorities and dignitaries present at the opening ceremony emphasized the significance of the tournament in fostering a sense of unity and remembrance, acknowledging the sacrifices of the soldiers. They highlighted the tournament's role in instilling the values of patriotism and dedication among the younger generation.
Moreover, the tournament stands as a symbol of gratitude towards the armed forces, aiming to keep their bravery and sacrifice alive in the hearts of the people. It serves as a means to perpetuate the memory of the Kargil war heroes and inspire future generations to uphold the spirit of nationalism and honor.
The Kargil Martyr Memorial Football Tournament is not just a sporting event but a collective tribute, resonating with emotions of respect and gratitude for the soldiers who made the ultimate sacrifice for the nation's pride and integrity. The competition will continue to run for several weeks, fostering both the love for football and a deep sense of remembrance for the gallant soldiers of the Kargil War.