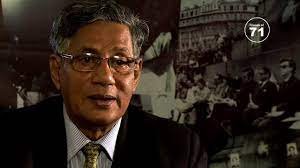 Himangshu Mohon Choudhury, the first recipient of Padma Shri from Tripura and a former IAS officer, passed away today. He was survived by two daughters, many relatives, and well-wishers. Choudhury had been suffering from old age diseases, and his health condition had deteriorated, leading him to be shifted to ILS Hospital the previous evening.
Choudhury was widely recognized for his commendable work during the 1971 Bangladesh war, when he served as the Sub-Divisional Officer (SDO). He played a crucial role in assisting the warriors and managing the refugee crisis during that time. His efforts were honored with the prestigious Padma Shri award by the Indian government, making him the first recipient from Tripura to receive this honor. In addition, the government of Bangladesh also recognized his contributions during the war.
Choudhury's dedication and service to his country during times of crisis were widely appreciated, and he was held in high esteem by his colleagues, friends, and the community. His passing is mourned by many, and his legacy as a distinguished IAS officer and a compassionate human being will always be remembered.