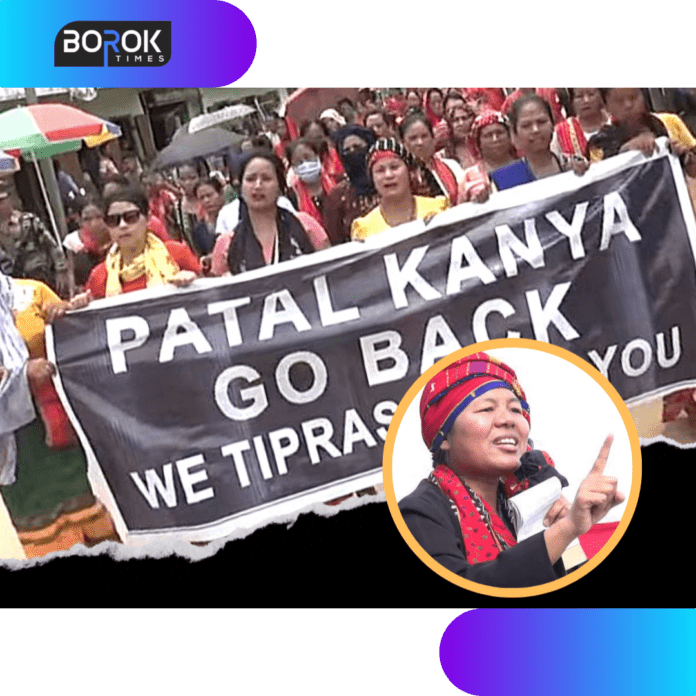 Peaceful agitation of the common public in the Jampuijala ADC area turned violent after police and security of BJP Minister Rampada Jamatia and BJP leader Patal Kanya Jamatia allegedly attempted to run over the agitators on Thursday.
The local women organized the Protest rally at Jampuijala against BJP leader Patal Kanya's visit with the "Go Back" slogan. The protest was going peacefully until the protesters were threatened by the police. Later, the public attacked Patal Kanya's convoy vehicles after her convoy allegedly attempted to run over the agitators who were raising "Patal Kanya Go Back." The agitators vandalized Patal Kanya's vehicle and one security guard reportedly received injuries.
Concerning the visit of Patal Kanya to Jampui, a group of agitators was in a protest march with a "Go Back Patal Kanya" banner. The banner also added, "We Tiprasa People Hate You". The rally stopped the convoy of Patal Kanya and continued peaceful protest but police attempted to impose force upon them and also allegedly one of the security or BJP members threatened to run the vehicles over the agitators. It turned the protest violent.
However, the "Go Back" culture was introduced in Tripura by BJP and top opposition leaders including former CM Manik Sarkar to other top leaders faced a "Go Back" protest by the public organized by BJP. Trinamool Congress leader Abhishek Banerjee also faced the same during his proceeding to a hotel in Agartala. Now, BJP leaders are being treated the same way in the ADC and rural areas as the opposition party leaders were treated in town areas.
The other reason for the public's ferocious action could also be because of the incident at Twido on Tuesday where Patal Kanya Jamatia was supposed to go for a joining program. The road was blocked by local women protesters protesting with the banner, "Patal Kanya Go Back". Later, the protesters were lathi charged, and tear gases were also used on them by the police.