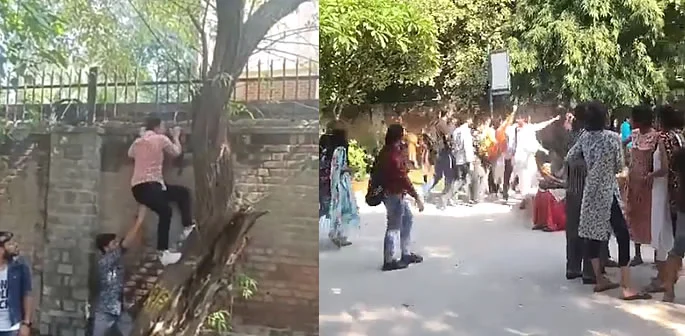 A video is going viral where you can see that a man is cat-calling women.
This incident occurred during an event organized by a student of Mahindra House College.
Students who were present during this incident claimed that men climbed and entered the college campus and did, "cat-calling, grouping, sexist sloganeering and more."
Delhi Police has registered a case against the men shown in the video.
This incident happened in the presence of a security guard. The students were climbing over a gate on the campus.
This incident has sparked outrage on social media.
Swati Maliwal, Chairperson of the Delhi Commission for women, said she has sent separate letters to the Delhi Police's deputy commissioner and the principal of Miranda House over the incident- in them, she has asked several questions, including details of the police case and security arrangement made for the events, which had been organized to celebrate the upcoming Diwali festival.
The Principal of the college said to the news that it was "never very big" and said, "Precautions and police persons were present but no one anticipated or prepared for such a large number of students."
She also stated that the college would file a separate case after looking at CCTV footage and that the administration was "having several discussions now," to find solutions to prevent such incidents."
There have been many such incidents have happened where dozens of men forcibly entered their campus and sexually harassed, and molested female students.