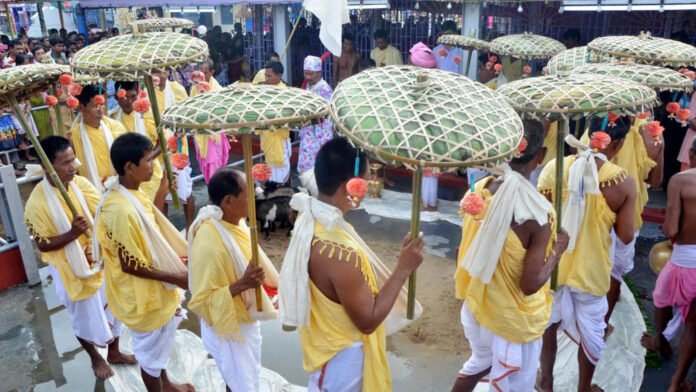 Agartala, the capital city of Tripura, is abuzz with preparations for the upcoming Kharchi Puja festival. This grand event holds immense cultural and religious significance for the people of Tripura and is celebrated with great enthusiasm and fervor.
Kharchi Puja, a week-long festival, is dedicated to the worship of fourteen deities who are considered to be the protectors of the land. The festival is observed in the month of July and attracts devotees from various parts of the state and neighboring regions. It is a unique blend of traditional customs, rituals, music, and dance.
As the festival approaches, the city is adorned with vibrant decorations, and the temples are meticulously cleaned and decorated to welcome the deities. A team of skilled artisans and craftsmen are working tirelessly to create intricate and beautiful idols of the gods and goddesses. These idols will be placed on a chariot, known as the 'Kharchi,' which will be the centerpiece of the festival.
The chariot will be carried by a group of devotees in a grand procession, accompanied by traditional music and dance performances. The procession will traverse through the city, covering various significant locations before reaching its final destination, the Kharchi Pahar, a sacred hill located on the outskirts of Agartala.
The festival also showcases the rich cultural heritage of Tripura through various cultural programs and performances. Folk artists, musicians, and dancers come together to entertain the crowds with their mesmerizing performances. Visitors can witness traditional dance forms like Garia, Lebang, and Hozagiri, which are an integral part of the festival.
Local businesses and vendors set up colorful stalls offering a wide range of traditional handicrafts, artworks, and delicious local delicacies. The festival creates a vibrant marketplace where visitors can immerse themselves in the flavors and colors of Tripura's rich cultural heritage.
The government, along with various cultural and religious organizations, is leaving no stone unturned to ensure the smooth execution of the festival. Stringent security measures are being put in place to maintain law and order and ensure the safety of the participants and visitors.
Kharchi Puja not only strengthens the religious fabric of Tripura but also boosts tourism and promotes the state's cultural identity. It provides an opportunity for people from different backgrounds to come together and celebrate the unique traditions and customs of Tripura.
As the preparations continue, the excitement among the residents is palpable. The city is eagerly awaiting the arrival of the deities and the commencement of the festivities. Kharchi Puja is a time of joy, devotion, and celebration, and it serves as a reminder of the deep-rooted cultural heritage that thrives in Tripura.