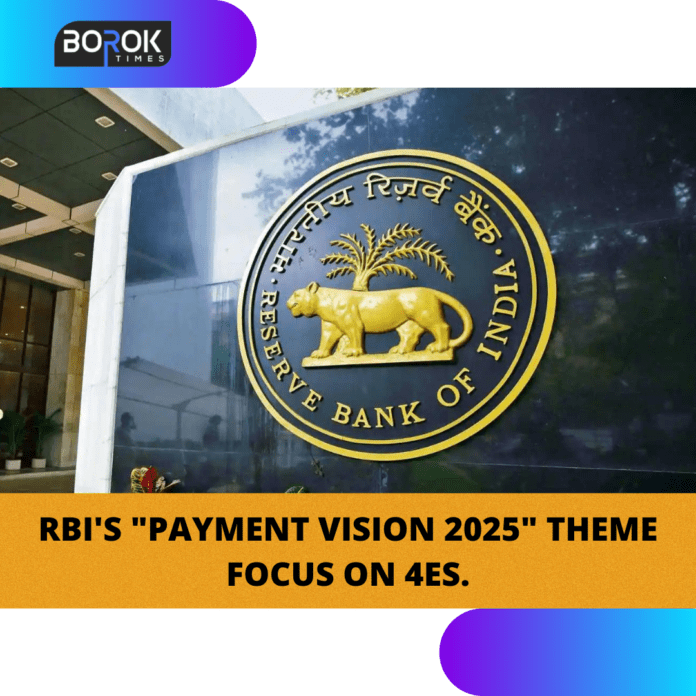 The Reserve Bank of India(RBI) has come out with "Payments Vision 2025" intending to provide every user with safe, secure, fast, convenient, accessible and affordable e-payment options.
Payments Vision 2025 has been prepared by considering the guidance from the Board for Regulation and Supervision of Payment and Settlement System of the RBI.
It builds on the initiatives of Payment Vision 2019-21.
The Payments Vision 2025 document is presented across the five anchor goal posts of Integrity, Inclusion, Innovation, Institutionalisation and Internationalisation.
The focus theme is E-Payments for Everyone, Everywhere, Everytime (4Es).
The main goal to achieve is the volume of cheque-based payments to be less than 0.25% of the total retail payments. Tripling the number of digital payment transactions, UPI to register average annualized growth of 50% and IMPS / NEFT at 20%, to increase of payment transaction turnover vis-à-vis GDP to 8 and to increase in debit card transactions at PoS (Point of Sale) by 20%, debit card usage to surpass credit cards in terms of value, to increase in PPI transactions by 150%, to increase card acceptance infrastructure up to 250 lakh, to increase of registered customer base for mobile based transactions by 50% CAGR and lastly reduction in Cash in Circulation (CIC) as a percentage of GDP.