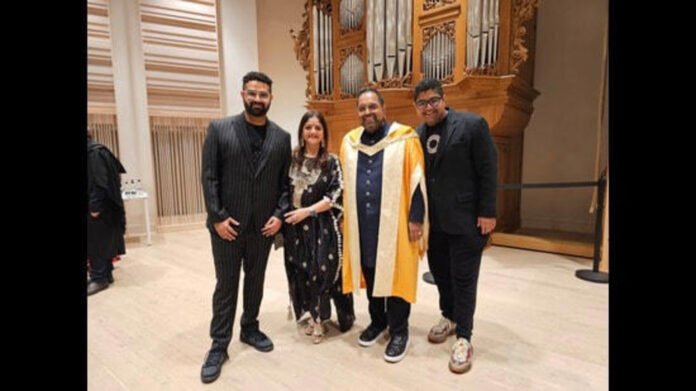 Introduction:
Shankar Mahadevan, a highly acclaimed composer and singer, recently received an honorary doctorate from the University of Birmingham in the United Kingdom. The prestigious award was presented to him at the Royal Birmingham Conservatoire, adding yet another remarkable achievement to his already illustrious career. In an interview, Mahadevan expressed his delight and gratitude for the recognition, reflecting on his humble middle-class background and how his love for music has been honored through this prestigious accolade. The ceremony was attended by his wife, Sangeeta Mahadevan, his sons and fellow singers, Siddharth and Shivam, as well as his close friends and collaborators, tabla maestro Ustad Zakir Hussain and guitarist John McLaughlin, both members of his music group, Shakti.
An Unexpected Honor:
Mahadevan, who holds a degree in computer engineering, humbly admitted that he never imagined receiving a doctorate, particularly considering his academic performance as a student. With a lighthearted chuckle, he jokingly referred to his marks as a computer engineering student, emphasizing how they were far from exemplary. However, his journey in music took a remarkable turn, changing the course of his life and leading to this extraordinary honor. The magic and joy of music became the driving force behind his success and eventual recognition. Overwhelmed with gratitude, Mahadevan intends to celebrate this significant achievement by hosting a grand party for his friends and family upon his return to Mumbai, India.
A Greater Responsibility:
Receiving an honorary doctorate brings forth an added responsibility for Mahadevan as a musician. He acknowledges the weight of this honor and believes it imposes an even greater obligation on him to work harder, create exceptional music, and touch the lives of countless individuals through his art. He recognizes the profound impact music can have on people's lives, and he is committed to continuing his musical journey with dedication and passion. Mahadevan's desire is to bring joy and inspiration to others through his heartfelt compositions, and this recognition fuels his determination to make an even more significant contribution to the world of music.
Conclusion:
Shankar Mahadevan's recent conferment of an honorary doctorate from the University of Birmingham serves as a testament to his outstanding talent and contribution to the music industry. From his modest beginnings to becoming a celebrated composer and singer, his journey has been nothing short of remarkable. This prestigious honor not only recognizes his musical achievements but also highlights his unwavering dedication and passion for the art form. Mahadevan's commitment to creating music that resonates with people's hearts and souls is evident, and he is determined to use this recognition as a catalyst for even greater artistic endeavors. With his profound musical abilities and his desire to bring joy and inspiration to the world, Shankar Mahadevan continues to leave an indelible mark on the global music landscape.