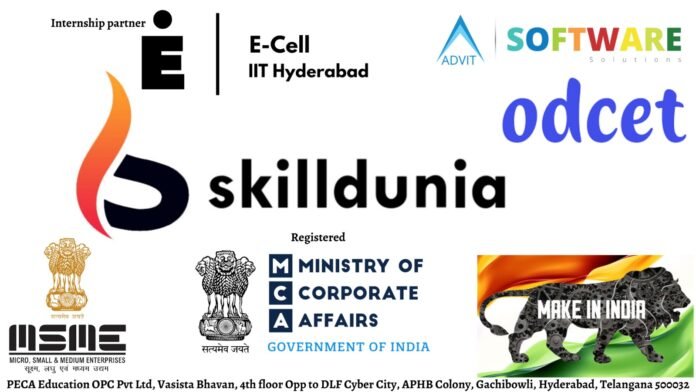 Skill Dunia, in collaboration with E-Cell IIT Hyderabad and top software companies, offers a comprehensive national-level internship program aimed at providing students with invaluable industry experience. With a host of features including live online training, real-time projects, co-branded certificates, and lifelong content access, Skill Dunia has become a trusted partner for thousands of students across various colleges. Backed by notable recognitions and registrations, Skill Dunia ensures that students receive top-notch training from mentors with extensive industry experience, leading to successful careers in renowned software companies.
Training and Assessment:
At Skill Dunia, students benefit from live online training sessions conducted by mentors with 5 to 10 years of industry experience. These mentors hail from renowned software companies such as IBM, Flipkart, Accenture, Amazon, and Google, ensuring a high-quality learning experience. The training program emphasizes interactive experiences, incorporating practical scenarios to enhance understanding and application of concepts. Through continuous self-assessments and implementation-based questions, Skill Dunia leverages AI technology to provide personalized feedback and track students' progress effectively.
Real-Time Projects and Co-Branded Certificates:
Skill Dunia bridges the gap between academia and industry by offering real-time projects from partner software companies, including Odcet Technologies and Advit Software Solutions. These projects provide students with hands-on experience, enabling them to tackle real-world challenges and develop practical skills sought after by employers. Additionally, participants receive co-branded internship certificates from software companies, further validating their experience and enhancing their employability.
Employment Opportunities and Career Support:
Skill Dunia has an impressive track record of helping students secure employment in leading software companies, with salary packages ranging from 5 to 44 LPA. The organization has successfully shared thousands of resumes with software companies, increasing students' chances of obtaining lucrative full-time employment offers. By connecting students with top-tier companies such as Cognizant, TCS, Cisco, Infosys, and Wipro, Skill Dunia facilitates career opportunities for its participants.
In order to secure a job in a highly competitive campus placement scenario, where there are only a few openings available and hundreds of students vying for them, it is crucial for students to gain practical exposure. This exposure can be obtained by hiring experienced professionals who can provide valuable insights and real-world knowledge to prepare students for the job market.
Advantages and Flexibility:
Skill Dunia offers several advantages that make learning more accessible and affordable. With its competitive pricing, students can access high-quality training without straining their budgets. Moreover, the program allows for flexible learning at one's own pace, accommodating students' diverse schedules and commitments. AI tools integrated within Skill Dunia's platform enable efficient tracking and assessment of performance, ensuring students receive personalized attention and guidance throughout their learning journey.
Skill Dunia's national-level internship program, in partnership with E-Cell IIT Hyderabad and renowned software companies, equips students with the skills and experience necessary to thrive in the software industry. Through live online training sessions, real-time projects, co-branded certificates, and career support, Skill Dunia empowers students to secure employment with top software companies, with impressive salary packages. The organization's commitment to interactive learning, affordability, and flexibility ensures that students receive a comprehensive and personalized educational experience. By leveraging AI technology and the expertise of industry mentors, Skill Dunia continues to shape the future of aspiring software professionals, fostering their success and contributing to the growth of the tech industry as a whole.
https://wa.me/+917095714234?text=Hi%20%0aI've%20seen%20your%20platform%0aWant%20to%20to%20more%20details