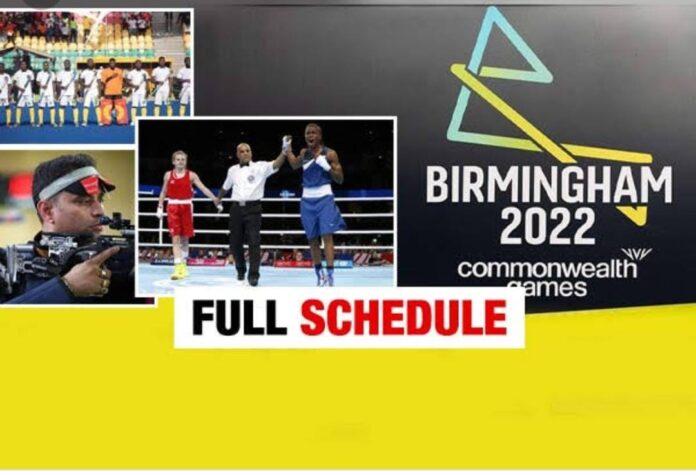 The 22nd edition of the commonwealth games is right now being held in Birmingham, England. Six days of live action have been completed, with four days still to go.
Team India has already collected 18 medals, which include 5 gold, 6 silver, and 7 bronze.
Highlights
India's Women's Fours team won the Gold Medal Match for the first time ever with a score of 17-10 against South Africa.
India's Men's Table Tennis team beat Singapore in the final to grapple the Gold Medal, India's fifth Gold in the competition so far.
India's Mixed Badminton team won the silver medal with Gopichand on the Commonwealth Games podium after 24 years.
Vikas lifted 191 kg in his second lift in Clean and Jerk, taking his total to 346 kg and winning the Silver Medal in the Men's 96 kg weightlifting final.
Sreeshankar topped the long-jump standings with 8.05m, while Anees finished eighth overall with 7.68m as both Indians qualified for the finals.
Medal Alert!
The Indian mixed badminton team (Kidambi Srikanth, Satwik Sairaj, Sumeeth Reddy, Lakshya Sen, Chirag Shetty, Treesa Jolly, Aakarshi Kashyap, Ashwini Ponappa, Gayatri Gopichand, PV Sindhu) lost to Malaysia 3-1 in the Gold Medal Match and added the second Silver Medal of the day to take India's overall medal tally to 13.
So far, India has won 18 medals at Birmingham 2022. Know India's CWG 2022 medal tally.
From July 28 to August 8, nearly 200 Indian athletes will be seen competing for medals across 16 different sports at the Commonwealth games 2022 in Birmingham.
At the last edition at Gold coast 2018, Indian athletes won a total of 66 medals, 26 gold, 20 silver, and 20 bronze to finish third overall, behind hosts Australia and England.
However, with shooting, which contributed 16 of the 66 medals at Gold Coast 2018, cut from the Commonwealth Games program for Birmingham 2022, India could struggle to match their tally from Gold Coast 2018.
In fact, 135 of India's total tally of 503 medals at commonwealth games heading into CWG 2022 have come in shooting – more than any other sport. This includes the 30 medals Indian shooters won during the 2010 New Delhi CWG – where India enjoyed their most successful commonwealth games in history, winning a total of 101 medals.
Tokyo Olympics javelin champion and world championships silver medallist Neeraj Chopra's late withdrawal from CWG 2022 due to injury has certainly left India one medal short already.
In shooting and Neeraj Chopra's absence, the onus will be on the Indian wrestling contingent, featuring Olympic medallists Ravi Kumar Dahiya, Bajarang Punia, and Sakshi Malik, and a strong badminton team, spearheaded by two-time Olympic medallist PV Sindhu and world championships medallist Kidambi Srikanth and Lakshya Sen, to drive India up the medals table at Birmingham.
So far, Indian athletes have won 18 medals, five golds, six silvers, and seven bronze, at the Commonwealth Games 2022. Sanket Sagar was the first Indian to win a medal in Birmingham, bagging a silver in the men's 55kg weightlifting event. Mirabai Chanu was the first Indian to win gold at CWG 2022 while Jeremy Lalrinnunga was the first Indian man to clinch the top podium at Birmingham.
Indian medal winners at Commonwealth Games 2022
| No | Athlete/Team | Medal | Event | Sport |
| --- | --- | --- | --- | --- |
| 1 | Sanket Sagar | Silver | Men's 55kg | Weightlifting |
| 2 | Gururaja Poojary | Bronze | Men's 61kg | Weightlifting |
| 3 | Mirabai Chanu | Gold | Women's 49kg | Weightlifting |
| 4 | Bindyarani Devi | Silver | Women's 55kg | Weightlifting |
| 5 | Jeremy Lalrinnunga | Gold | Men's 67kg | Weightlifting |
| 6 | Achinta Sheuli | Gold | Men's 73kg | Weightlifting |
| 7 | Sushila Devi Likmabam | Silver | Women's 48kg | Judo |
| 8 | Vijay Kumar Yadav | Bronze | Men's 60kg | Judo |
| 9 | Harjinder Kaur | Bronze | Women's 71kg | Weightlifting |
| 10 | Indian women's team | Gold | Women's fours | Lawn bowls |
| 11 | Vikas Thakur | Silver | Men's 96kg | Weightlifting |
| 12 | Indian men's team | Gold | Men's team | Table Tennis |
| 13 | Indian mixed team | Silver | Mixed team | Badminton |
| 14 | Lovepreet Singh | Bronze | Men's 109kg | Weightlifting |
| 15 | Saurav Ghosal | Bronze | Men's singles | Squash |
| 16 | Tulika Maan | Silver | Women's +78kg | Judo |
| 17 | Gurdeep Singh | Bronze | Men's +109kg | Weightlifting |
| 18 | Tejaswin Shankar | Bronze | Men's high jump | Athletics |
Commonwealth Games 2022: Indian medal winners by sport
| Sport | Gold medal | Silver medal | Bronze medal | Total |
| --- | --- | --- | --- | --- |
| Weightlifting | 3 | 3 | 4 | 10 |
| Judo | 0 | 2 | 1 | 3 |
| Lawn bowls | 1 | 0 | 0 | 1 |
| Table Tennis | 1 | 0 | 0 | 1 |
| Badminton | 0 | 1 | 0 | 1 |
| Squash | 0 | 0 | 1 | 1 |
| Athletics | 0 | 0 | 1 | 1 |
| TOTAL | 5 | 6 | 7 | 18 |
Commonwealth Games 2022 medals tally
| Rank | Country | Gold | Silver | Bronze | Total |
| --- | --- | --- | --- | --- | --- |
| 1 | Australia | 46 | 38 | 39 | 123 |
| 2 | England | 38 | 37 | 28 | 103 |
| 3 | Canada | 16 | 20 | 21 | 57 |
| 4 | New Zealand | 16 | 10 | 10 | 36 |
| 5 | Scotland | 7 | 8 | 17 | 32 |
| 6 | South Africa | 6 | 7 | 7 | 20 |
| 7 | India | 5 | 6 | 7 | 18 |
| 8 | Wales | 4 | 4 | 9 | 17 |
| 9 | Malaysia | 3 | 2 | 3 | 8 |
| 10 | Nigeria | 3 | 1 | 4 | 8 |