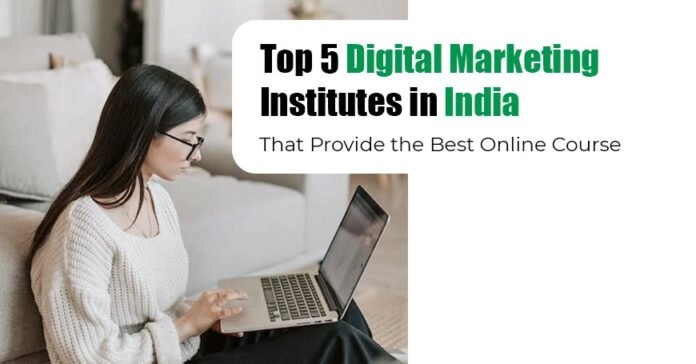 Digital marketing has become the driving force behind India's rapid growth, revolutionizing how businesses connect and succeed online. Professionals, from start-ups to big companies, aim to stand out and impress clients, often seeking help from digital marketing institutes. Even fresh graduates and newcomers are joining courses to enhance their career opportunities in this dynamic industry.
Discovering the best digital marketing institutes in India for your career can be daunting. To make it easier, we've curated a list of the top 5 institutes offering the best online courses in Digital Marketing. We created this list by carefully evaluating the curriculum, instructor profile, and cost, which can help aspiring digital marketers make an informed decision while choosing the best digital marketing institute that provides the best online course in Digital Marketing that aligns with their career goals and ensures a solid foundation for success.
The below list contains the top 5 Digital Marketing Institutes in India, continue reading the article to know more about them:
Internet Marketing School (IMS): Internet Marketing School is unquestionably one of Kolkata's prominent digital marketing training institutions that has swiftly established itself. This Google partner and ISO 9001:2015 accredited school have gained notoriety since 2016 for its top-notch digital marketing training, technologically sound classroom instruction, and live project collaboration with cutting-edge technologies.
Along with receiving a certificate of completion, students receive 100% placement help. To prevent the cost of learning from rising, the payment system has been maintained very flexibly. They have successfully taught more than 6000 pupils, of which more than 4,000 have found employment in reputable companies. Not only has IMS trained brilliant minds but its Media Agency named Above The Fold has also been the propelling force for many renowned brands like Ambuja Neotia, Rashmi TMT bars, Khadims, Levis etc.
Internet Marketing School has recently launched their latest course which is Online Certification in Advance Digital Marketing Strategy powered by Wipro Dice ID. This course offers a 360 overview of all the aspects of digital marketing. From website planning & development, Search Engine Optimization to Email Marketing, ChatGPT utilization, and Mobile Marketing. If you want to shape your career path and reach new heights of success then visit their website: https://www.internetmarketingschool.co.in/   to know more.
Henry Harvin Institute: Henry Harvin's digital marketing program has earned a distinguished reputation as one of India's most influential and sought-after courses. Renowned for its exceptional infrastructure, cutting-edge technology, and unmatched work support, it has become a preferred choice for aspiring digital marketers nationwide.
With a firm belief in their training excellence, Henry Harvin empowers students to surpass the competition and achieve their career aspirations. The institute's prestigious hiring partners, including iimjobs.com, freshers world, Naukri, and more, further enhance the prospects for successful placements.
Certification Course in Digital Marketing by Digital Academy India: Digital Academy India is a platform dedicated to empowering digital marketers in India with the essential skills needed to thrive in the digital realm. With a vision to tap into the vast potential of the digital marketing industry, the institute offers a range of training courses tailored to help individuals kick-start their journey.
These courses provide a holistic understanding of different aspects of online marketing, enabling students to develop effective strategies and proficiently manage projects. Within two years, Digital Academy India has successfully trained 5,000 individuals across the country.
IIDE – The Digital School, is renowned as one of India's top training institutions for digital marketing. Their comprehensive curriculum offers industry-focused training, covering a wide range of digital marketing aspects. With both in-person and online course options, IIDE aims to ensure accessible learning opportunities for aspiring marketers.
For college students seeking to enhance their digital marketing skills, there is a 4-month course available. Additionally, fresh graduates and professionals looking to upskill can opt for the post-graduate program in digital marketing. Notably, IIDE's esteemed hiring partners include Philips, MakeMyTrip, Tinder, Burger King, Amazon, and other renowned companies.
Upgrad's Online Digital Marketing Course: UpGrad has recently gained recognition as one of the premier digital marketing training institutes in India, offering a cutting-edge curriculum. The calibre of instructors and the abundance of coaches impressed me greatly. Through collaborations with industry experts, UpGrad has enhanced its programs to deliver exceptional quality.
What sets the digital marketing course at UpGrad apart is its emphasis on the foundational principles and values of marketing. While the field has rapidly evolved with the advent of digital techniques and strategies, UpGrad recognizes the enduring significance of sales, branding, and marketing principles. They believe that mastering these core principles is vital for success in the dynamic world of digital marketing.
So, before you select a digital marketing institute, it is crucial to consider the specific skills required for success in this rapidly evolving field. Beyond the curriculum, factors like instructor expertise and cost play a vital role in choosing the ideal institute.
To thrive in digital marketing, one must develop a diverse skill set. This includes proficiency in areas such as search engine optimization (SEO), social media marketing, content creation, data analytics, and advertising strategies. A comprehensive curriculum that covers these aspects equips learners with the necessary tools to excel in their digital marketing careers.
Furthermore, the expertise and experience of the instructors greatly impact the quality of education. Instructors with industry experience and up-to-date knowledge bring real-world insights to the classroom, ensuring practical relevance and cutting-edge insights for students.
Lastly, considering the cost of the program is essential. While affordability is important, it is equally vital to assess the value provided in terms of course content, resources, industry connections, and support offered throughout the learning journey.
Aspiring digital marketers can pick a digital marketing institution that fits their professional aspirations and provides a strong basis for success by carefully assessing the curriculum, teacher profile, and pricing. So, keep these pointers and the list of top 5 best digital marketing institutes in mind before making your decision.