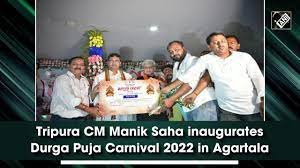 Chief Minister Manik Saha launched the Durga Puja Carnival 2022 on October 07 in Agartala. Organised by the Department of Information and Culture, various cultural programs were held. He also performed rituals of Durga Puja. Durga Puja Carnival returned to Agartala after two years of COVID -19 restrictions.
The 500 years old Durga puja, initiated by the then royal dynasty still manages to draw the attention of devotees from all parts of the country and the neighbouring countries as well. It has been sponsored by the Tripura Government for almost 70 decades now.
Tripura was governed by the left and non-left parties before and got merged with the Indian union 73 years back. It is the only state where the government itself sponsors the 5 centuries-old Durga Puja.