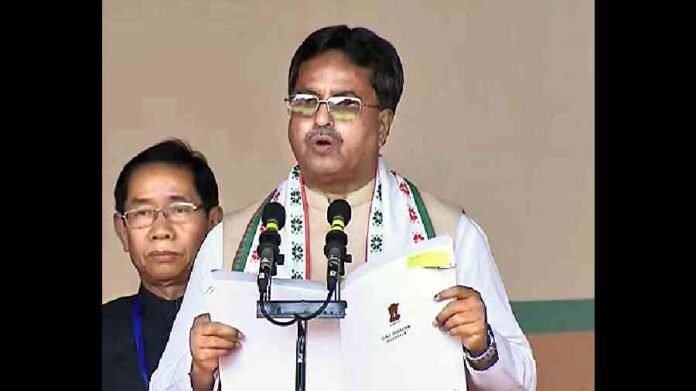 After winning the assembly election in Tripura, yet again, CM Manik Saha takes oath for the 2nd time. In the assembly elections that were held on February 16th, the BJP party won. The oath ceremony took place today in Agartala.
Prime Minister Narendra Modi, Union Home Minister Amit Shah, and BJP President J P Nadda were also present in the oath ceremony today. Along with them, other ministers like Himanata Biswa Sarma, the CM of Assam were also present.
Arunachal Pradesh Chief Minister Pema Khanda, Manipur Chief Minister N Biren Singh, and PS Tamang Chief Minster of Sikkim also attended the oath ceremony today.
Four new ministers hold on to the same government. Those ministers are Ratan Lal Nath, Pranajit Singh Roy, Shantana Chakma, and Sushanata Chowdhury. According to the reports, both the opposition party Congress and CPM are boycotting the swearing-in ceremony for opposing post-poll violence in the state.
Last year also, Manik Saha was in the power of CM, and this year again, he has come to power in Tripura. We are hoping to see him do good to the state and serve the best to the people of Tripura. People are excited to see what all growth the CM is going to bring this year.