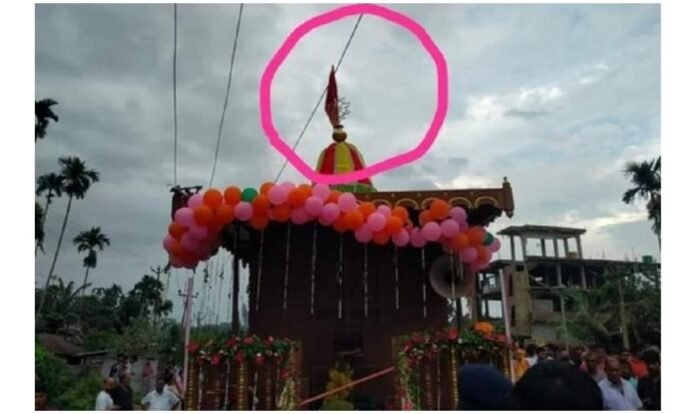 Agartala – In response to the tragic incident that occurred on June 28, where a chariot mishap resulted in the unfortunate loss of eight lives, including three children, the Tripura government has taken a significant step towards seeking justice and determining the cause behind the incident. In an effort to ensure a thorough investigation, the state government has ordered a magisterial probe into the incident.
The chariot tragedy took place during a religious procession in a local community, bringing devastation to the families and the entire community. The incident sent shockwaves across the region, prompting the government to take immediate action in order to establish accountability and prevent similar incidents in the future.
By launching a magisterial probe, the government aims to gather comprehensive information regarding the circumstances surrounding the tragedy. A team of experienced and qualified magistrates will be appointed to lead the investigation, delving into various aspects such as the construction and maintenance of the chariot, safety measures in place, crowd management protocols, and any other factors that might have contributed to the accident.
The magisterial probe will be crucial in uncovering the truth behind the incident, bringing clarity to the sequence of events, and determining if any negligence or lapses in safety measures occurred. The government's commitment to a thorough investigation reflects its dedication to ensuring justice for the victims and their families, as well as its determination to prevent such tragedies from occurring in the future.
In addition to identifying the causes, the probe will also assess the adherence to safety guidelines and protocols during religious processions and public events. This step is essential for formulating and implementing stricter safety measures to prevent any recurrence of such unfortunate incidents and to safeguard the lives of the citizens.
The government has urged the public to cooperate with the magisterial probe, providing any relevant information or evidence that may assist in the investigation. It has emphasized the importance of collective responsibility in maintaining public safety and preventing any untoward incidents during community gatherings.
While the magisterial probe will take time to complete, the Tripura government remains committed to ensuring transparency and accountability throughout the process. The findings of the investigation will be made public, allowing the community to understand the circumstances surrounding the tragedy and enabling appropriate measures to be taken for the future.
The initiation of a magisterial probe underscores the Tripura government's proactive approach in dealing with the chariot tragedy. Through a comprehensive investigation, it aims to provide solace to the grieving families, establish accountability, and work towards preventing similar incidents from happening in the future. The results of the probe will serve as a foundation for implementing enhanced safety measures and regulations, ensuring the well-being of the citizens during religious processions and other public events.