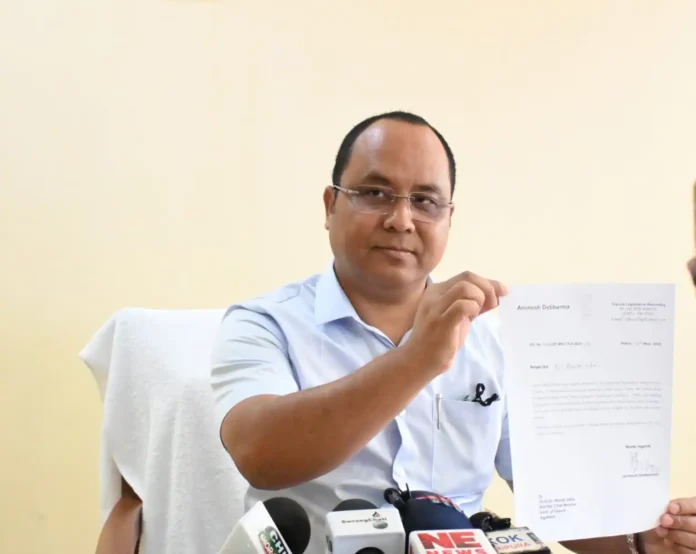 Animesh Debbarma, the leader of the 'Tipra Motha' legislature party and a senior leader, has called for the urgent renovation and expansion of facilities in Tripura Bhawans located in Kolkata, Guwahati, and Delhi. Speaking at the 'Bhumi Pujan' ceremony after the inauguration of the new MLAs hostel near the new capital complex, Animesh said that all the Bhawans lacked appropriate facilities for living by VVIPs as well as common people.
He highlighted the deplorable state of the facilities at the Pretoria street Tripura Bhawan in Kolkata, where the staff recruited on a regular basis were too old and indifferent to deliver services, while the contractual staff recruited locally were negligent. The rooms were also in a poor state, and the disturbances created by cockroaches and bugs on beds made it impossible for anybody to stay or sleep there. He demanded the complete renovation and thorough overhauling of the entire Tripura Bhawans in Pretoria street and Salt Lake, where the condition and quality of food served were extremely poor. He regretted that while the Pretoria street Tripura Bhawan accommodated mostly VVIPs and critical patients, common people had to live in Salt lake and suffer much.
Animesh's contention was supported by the speaker of the assembly, Bishwabandhu Sen, who also spoke on the occasion and pointed out the pitiable plight of all Tripura Bhawans, especially the two in Delhi. He compared the five-star Goa Bhawan located near the Tripura Bhawan in Delhi to the Tripura Bhawans, which he said did not belong to any category. He demanded the immediate renovation and up-gradation of all the Tripura Bhawans.
The Tripura Bhawans serve as a home away from home for people from Tripura who visit Kolkata, Guwahati, and Delhi. The Bhawans provide lodging, food, and other essential amenities to the visitors at affordable prices. The Bhawans are also used by government officials and other VVIPs who visit these cities for official purposes.
However, the poor condition of the facilities at the Tripura Bhawans has been a long-standing issue, and the calls for their renovation and up-gradation have been made repeatedly. The lack of proper facilities and services at the Bhawans has caused inconvenience and discomfort to the visitors, and the poor condition of the Bhawans has also tarnished the image of the state.
The demand for the renovation and expansion of facilities at the Tripura Bhawans is, therefore, a much-needed step that will not only improve the living conditions of the visitors but also enhance the image of the state. The authorities must take note of the demands and take immediate action to renovate and upgrade the Tripura Bhawans so that they can provide better services and amenities to the visitors.