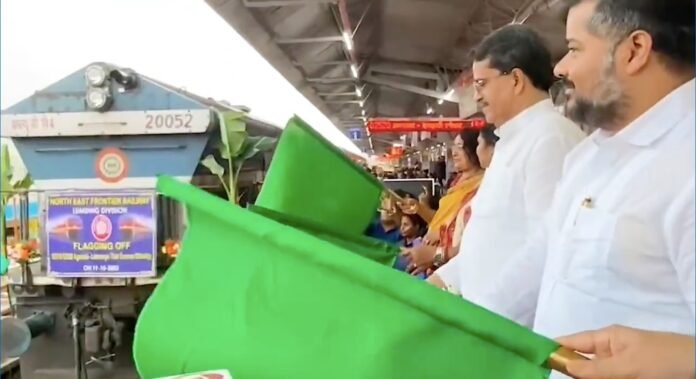 Central Railway Minister, Shri Ashwini Vaishnaw, virtually inaugurated several key projects. The event was graced by the presence of Tripura Chief Minister, Dr. Manik Saha, Central Minister Pratima Bhowmik, Tripura Transport Minister Sushanta Chowdhury, and Chief Minister of Assam, Shri Himanta Biswa Sarma.
The highlight of the occasion was the flagging-off of the Agartala-Mumbai Lokmanya Tilak (weekly) Express from the Agartala railway station. This new service is poised to strengthen the rail network, providing an essential link between Agartala and Mumbai. The initiation of this weekly service marks a significant milestone in the region's railway connectivity.
Furthermore, the introduction of a Diesel Electric Multiple Unit (DEMU) train in the Agartala-Sabroom section was announced. This addition is set to streamline local travel, facilitating more convenient and efficient transportation options for the residents.
A key enhancement was the installation of a state-of-the-art escalator at the Agartala railway station. This modern amenity is expected to significantly improve passenger experience, making it more accessible and convenient for travelers.
During the inauguration ceremony, all the dignitaries expressed their gratitude for these infrastructural developments, attributing them to the leadership of Prime Minister Narendra Modi. These new projects not only signify a boost in connectivity but also reflect the government's commitment to the overall progress and development of Tripura.
The Agartala-Mumbai Lokmanya Tilak Express is poised to play a pivotal role in enhancing connectivity between the two cities, facilitating smoother travel for both tourists and locals alike. The DEMU train in the Agartala-Sabroom section will address the need for efficient local transit, particularly benefitting daily commuters.
The installation of the escalator at Agartala station aligns with global standards of railway facilities, ensuring a seamless experience for passengers, especially those with mobility challenges.
These developments underscore the government's relentless pursuit of improving transportation infrastructure, ultimately fostering economic growth and regional connectivity. With these initiatives, Tripura is poised for a more connected and accessible future.