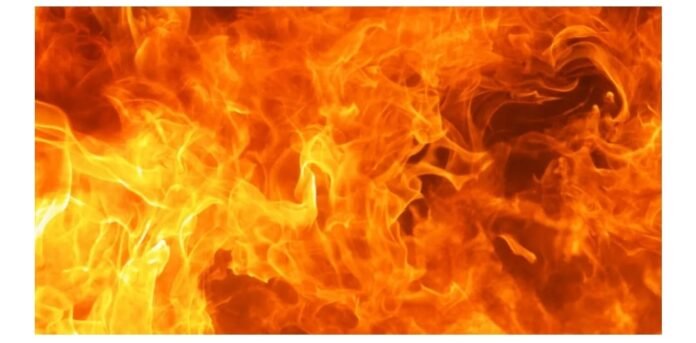 AGARTALA – A devastating fire broke out during the annual Rath Yatra festival in Unakoti district of Tripura, resulting in the tragic loss of six lives, including that of a child. The incident has left the community in shock and mourning as authorities investigate the cause of the blaze.
The unfortunate incident occurred during the vibrant celebration of Rath Yatra, a significant Hindu festival commemorating the chariot procession of Lord Jagannath, his brother Balabhadra, and sister Subhadra. Thousands of devotees had gathered to witness the procession when disaster struck.
Eyewitnesses reported that the fire quickly engulfed the temporary structures erected for the festival, trapping several individuals inside. Despite the prompt response from the local authorities and emergency services, the inferno claimed the lives of six individuals, whose identities have not been disclosed at this time.
Officials have initiated an investigation to determine the cause of the fire and assess the extent of the damage. Preliminary reports suggest that a short circuit or an accidental ignition may have triggered the blaze. Forensic experts and fire department personnel are meticulously examining the site to gather evidence and ascertain the exact sequence of events.
Expressing deep condolences, Chief Minister of Tripura, along with other state officials, visited the affected area to assess the situation and provide support to the affected families. The government has announced compensation for the victims' families and assured all necessary assistance during this difficult time.
The tragedy has sent shockwaves throughout the region, with people expressing grief and offering prayers for the departed souls. Local communities and organizations have also come forward, providing aid and support to the affected families, showcasing the resilient spirit and unity in the face of adversity.
In light of this incident, authorities are now placing a heightened emphasis on ensuring the safety and security of public events. They are reviewing safety protocols and measures to prevent such unfortunate incidents from occurring in the future. The government is determined to learn from this tragedy and implement robust safety guidelines for all public gatherings and festivals across the state.
As the investigation continues, the community stands together in solidarity, mourning the loss of innocent lives and praying for the well-being of those affected. The incident serves as a somber reminder of the importance of prioritizing safety measures during large-scale events, ensuring the protection and well-being of all participants.