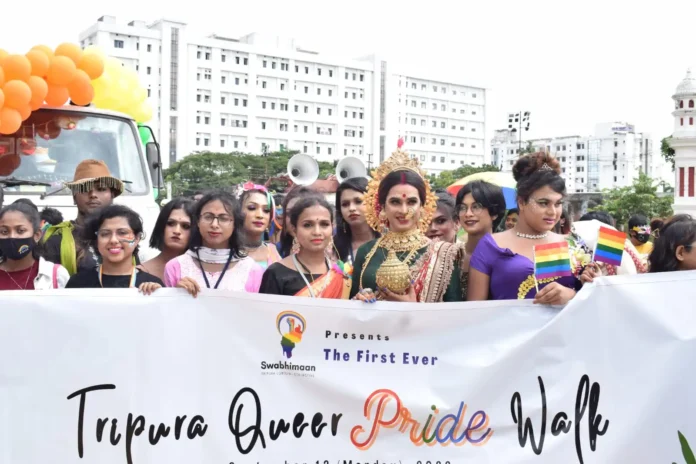 For the first time in Agartala, On Monday, hundreds of LGBTQIA+ activists took to the streets of Agartala in rainbow attire to mark the state's first queer pride parade.
The Queer Pride Walk was organized by a non-governmental organization, Swabhiman.
Members of the lesbian, gay, bisexual, and transgendered communities and their supporters paraded with rainbow flags representing LGBTQ social movements.
The walk started from the ground of the Umakanta Academy and cover about five kilometers of roads in the capital, until the Vivekananda stadium.
Speaking on the issue, NGO President Sneha Gupta Roy said: "Pride marches are organized in almost every major city and state in the country. However, this is the first time such a walk has been held in Tripura. The main aim of the queer pride parade is to honor and celebrate lesbian, gay, bisexual, and transgender people, and through creating awareness, society can come out of the stigma and prejudice against them.
Roy said that society ought to learn to accept people for who they are. "If someone reveals that he or she is gay or lesbian, society must accept them. It is a fact that in Tripura, the awareness level related to such issues is less. People belonging to the LGBTQ community are trolled, bullied, or harassed on moral grounds which should not be the case in a civilized society. Society should broaden vision and accept everyone with a big heart," Roy said.
She also requested that the Transgender Assistance Council be established in Tripura to ensure that members of these groups feel more secure and have the authority to protect their rights.
Some of the participants, even from other states, went out into the street painting rainbows on their bodies, While many others wore rainbow-coloured garments, expecting to make a change in people's mindset towards them.