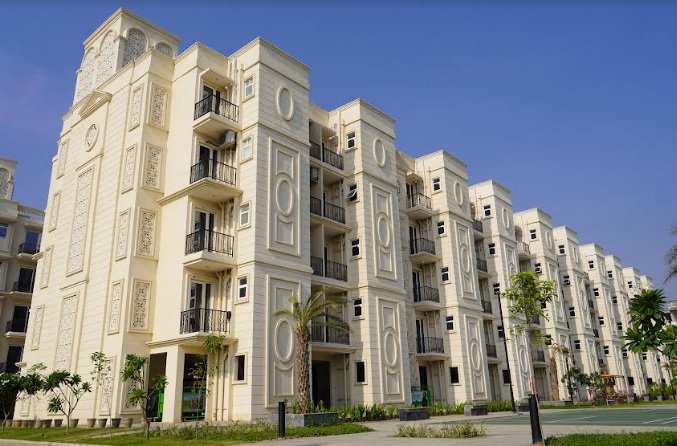 Gurugram, an increasingly thriving city in India, has become a haven for homebuyers seeking luxurious living. Boasting exceptional amenities, strong connectivity, and a thriving social infrastructure, Gurugram is now the perfect destination for those in search of opulent and comfortable living spaces. The limited availability of luxury independent floor apartments in this bustling city has further intensified the interest of discerning buyers who recognize the value and investment potential that Gurugram offers.
Signature Global Park 2 & 3
Limited availability of luxury independent floor apartments in Gurugram presents an appealing opportunity for homebuyers seeking opulence, connectivity, and social infrastructure. These apartments provide exceptional amenities, enhancing the living experience. Additionally, Gurugrams well-developed connectivity and thriving social infrastructure make it an ideal location for investing in a dream home. The citys emergence as a premier destination for luxury homes is attributed to various key factors, solidifying its reputation as the top choice for such residences.
Signature Global, a leading real estate developer, offers an ideal combination of affordability and opulent amenities at prime locations in Gurugram. With a range of luxurious features, Signature Global caters to the needs of discerning buyers, providing a lifestyle of comfort and elegance. Whether its a convenient location, state-of-the-art facilities, or an affordable price point, Signature Global stands out as the perfect choice for those seeking a harmonious balance between luxury and affordability in Gurugram.
Mr. Pradeep Aggarwal, Founder & Chairman, Signature Global (India) Ltd.
"Gurugrams limited inventory of luxury independent floor homes presents a unique opportunity for discerning homebuyers. The excellent connectivity, world-class amenities, and potential for high return on investment make Gurugram an ideal destination for real estate investment. I strongly urge potential homebuyers to seize this opportune time and invest in Gurugram," As per Mr. Pradeep Aggarwal, Founder & Chairman of Signature Global (India), Ltd.
Apart from luxury apartments, Gurugram also caters to those seeking affordable or mid-range housing options through the Deen Dayal Jan Awas Yojana (DDJAY) introduced by the Haryana government. Signature Global and other developers have launched projects under DDJAY, offering luxury independent floor apartments that comply with the schemes regulations. Prospective homebuyers have the opportunity to invest in their dream homes at competitive prices, without sacrificing quality and luxury features. Limited slots are still available for homebuyers in Gurugram under the DDJAY scheme.
Signature Global has set new standards in mid-income housing, infusing luxury into its exceptional projects in Gurugram. Signature Global City 93, Signature Global City 79B, Signature Global City 92-2, Signature Global City 37D, Signature Global City 81, and Signature Global Park in the southern part of Gurugram exemplify the epitome of luxury independent floor apartments.
These apartments offer amenities that are a delight for individuals and families seeking a luxurious living experience within a mid-range pricing bracket. Landscaped gardens, well-equipped clubhouses, refreshing swimming pools, state-of-the-art fitness centers, and round-the-clock security are among the essential facilities that homebuyers seek in their ideal dwelling space. These apartments boast contemporary designs, premium finishes, and abundant natural light, striking the perfect balance between comfort and aesthetics.
It is important to note that most of the Signature Globals floor projects are EDGE certified, emphasizing their commitment to environmental sustainability and resource efficiency. Each floor owner receives a separate EDGE certificate for their home, highlighting the eco-friendly practices implemented in these projects. By adhering to EDGE norms, these projects optimize the utilization of natural resources such as water and sunlight, contributing to a greener and more sustainable living environment.
One of the major attractions of Gurugram is the Dwarka Expressway, providing excellent connectivity between Gurugram and the capital city of Delhi. Covering a distance of 29 kilometers, this stretch in Gurugram not only provides convenient access to the Indira Gandhi International Airport but also connects to prominent business hubs, making it an ideal location for professionals seeking luxurious residences.
Moreover, Gurugrams proximity to the Delhi-Mumbai Industrial Corridor (DMIC) offers residents unparalleled access to thriving commercial and industrial zones, creating abundant employment opportunities. The Kundli-Manesar-Palwal (KMP) Expressway further enhances connectivity within Gurugram, ensuring seamless travel and making it an excellent choice for luxury living. The Southern Peripheral Road (SPR) and Sohna Road are additional key routes that provide excellent connectivity and access to various entertainment, dining, and shopping options.
Considering these combined factors, Gurugram emerges as the prime destination for luxury homes, offering residents a lifestyle encompassing convenience, economic growth, and a wealth of amenities.
Given the current scenario, it is the perfect time for prospective homebuyers to seize this opportunity and secure an apartment in Gurugram that fits their budget and fulfills their familys needs.
​