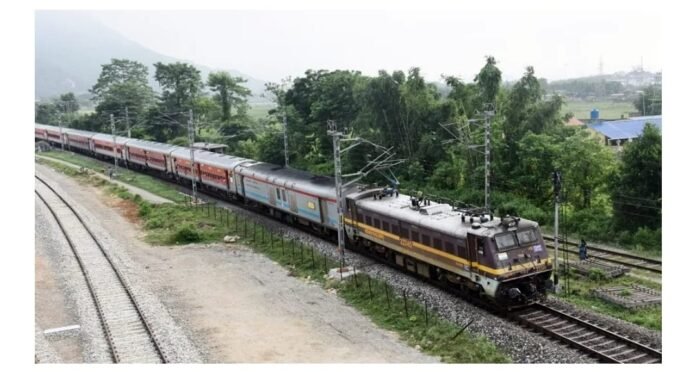 In a significant development, a concerned delegation from the picturesque region of Jaintia Hills in Meghalaya approached the state government with an earnest plea for railway connectivity. Led by Meghalaya's Deputy Chief Minister, Sniawbhalang Dhar, the section of people hailing from Jaintia Hills expressed their aspirations for improved transportation and economic opportunities.
Situated amidst the lush greenery of Meghalaya, Jaintia Hills has long been admired for its natural beauty and unique cultural heritage. However, the absence of a robust railway network has hindered its potential for growth and development. Recognizing the pressing need to address this issue, Deputy CM Sniawbhalang Dhar extended his wholehearted support to the cause.
During the meeting with the government, the delegation passionately articulated their aspirations for enhanced connectivity and emphasized the manifold benefits a railway link could bring to the region. With a railway network in place, Jaintia Hills could witness a surge in tourism, better access to markets for agricultural produce, and increased employment opportunities for the local populace.
Speaking on the matter, Deputy CM Sniawbhalang Dhar affirmed the government's commitment to the overall welfare of the state's residents, including those from the remote corners like Jaintia Hills. He acknowledged that the establishment of railway connectivity could prove transformative for the region, fostering inclusive growth and better living standards for its inhabitants.
While the project is still in its nascent stages, the government has assured the delegation that they will conduct a feasibility study to assess the practicality and impact of the proposed railway link. This study would take into account factors like terrain, environmental impact, and economic viability to ensure the best possible outcome for the people of Jaintia Hills.
Furthermore, Deputy CM Sniawbhalang Dhar assured the delegation that the government would actively engage with relevant stakeholders, including local communities, experts, and railway authorities, to gather comprehensive insights and make informed decisions.
This significant step towards railway connectivity in Jaintia Hills has instilled a renewed sense of hope and optimism among the residents, who eagerly await the potential transformation that such a project could bring. As the government continues to work towards fulfilling the aspirations of the people, the prospects for progress and development in the region appear promising.