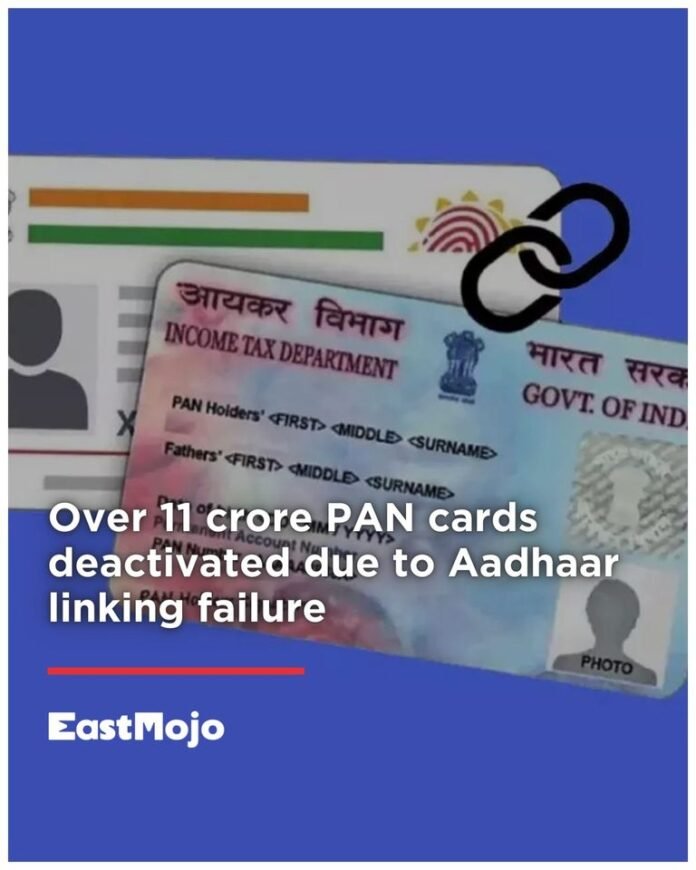 In a recent revelation by the Central Board of Direct Taxes (CBDT), it has come to light that a staggering 11.5 crore PAN (Permanent Account Number) cards have been deactivated due to their non-linkage with Aadhaar cards. This revelation follows an RTI request filed by Chandra Shekhar Gaur, an activist from Madhya Pradesh, as reported by The Hindu.
Key Points:
Linking Deadline and Numbers: The Income Tax rules mandated the linking of PAN and Aadhaar by June 30, 2023. Out of the 70.24 crore PAN card holders in India, a substantial 57.25 crore individuals have successfully linked their PAN cards to Aadhaar within the stipulated time frame.
Unfortunate Numbers: Shockingly, more than 12 crore PAN cards remained unlinked to Aadhaar by the specified deadline. The consequence: 11.5 crore PAN cards deactivated. This statistic underlines the magnitude of the task at hand in ensuring compliance with the mandatory linkage.
Activist's Pursuit: Chandra Shekhar Gaur's RTI request brought these numbers to light, emphasizing the role of activism in promoting transparency and accountability in governmental processes.
Ray of Hope: While the deactivation of PAN cards raises concerns, the response provided a silver lining. It revealed that the deactivated Aadhaar cards can be reactivated by paying a fine of ₹1,000. This provides a pathway for those who may have missed the deadline, offering an opportunity to rectify the non-compliance.
The revelation of such a large number of deactivated PAN cards underscores the significance of adhering to regulatory mandates. The mandatory linkage of PAN and Aadhaar serves as a crucial step in enhancing financial transparency and curbing tax evasion.
As individuals and entities navigate through this process, the ray of hope emerges in the form of the reactivation option, encouraging those affected to rectify their status by paying the stipulated fine.