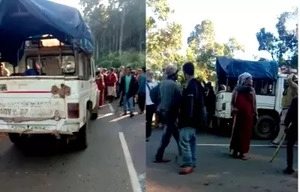 Six people, including a forest guard, were killed in violence that broke out on the Assam-Meghalaya border after the police stopped a truck carrying illegal timber in the early hours of Tuesday. West Karbi Anglong Superintendent of Police Imdad Ali said the truck was intercepted by the Assam Forest Department team at the Meghalaya border around 3 am. As the truck tried to flee, the forest guards fired at it and punctured its tyre. The driver, the handyman and another person were apprehended, while the others managed to escape, he said.
The forest guards informed the Jirikending police station about the incident and sought reinforcements, the official said. As soon as the police arrived, a large number of people from Meghalaya armed with 'daws' (daggers) and other weapons gathered at the spot around 5 am, the official said. He said as the mob gheraoed the forest guards and police demanding the immediate release of the arrested, the officials fired upon them to bring the situation under control. Six people died in this incident.
A forest guard and three people from the Khasi community were killed in the incident, the official said. The situation is now under control. However, it was not immediately clear how the forest guard, identified as Bidyasing Lekhte, died. Ali said that top officials of the district are going to remote areas.
Meghalaya Chief Minister Conrad Sangma said that a total of six people, including five from Meghalaya and one forest guard from Assam, were killed in the incident. The injured were taken to the hospital. The FIR lodged by the Meghalaya Police was investigated. A magisterial inquiry will be initiated into the incident. I have spoken to the CM of Assam on the incident and he has assured cooperation.
The Meghalaya government has suspended mobile internet services in seven districts for 48 hours from November 22 following the Mukoh firing incident. Internet has been suspended in districts including West Jaintia Hills, East Jaintia Hills, East Khasi Hills, Ri-Bhoi, Eastern West Khasi Hills, West Khasi Hills and South West Khasi Hills.