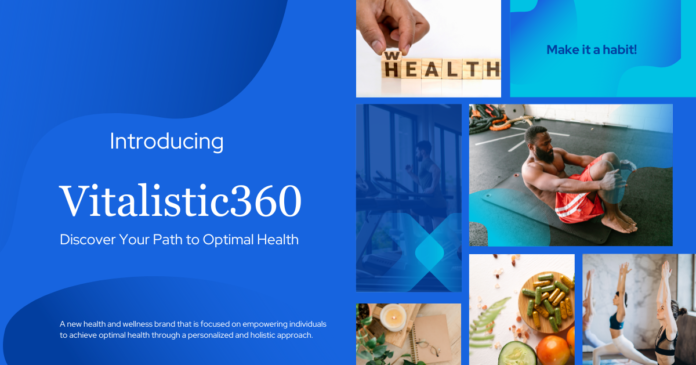 Introducing Vitalistic360 – a new health and wellness brand that is focused on empowering individuals to achieve optimal health through a personalized and holistic approach. Founded by Mohd Sameer, a medical aspirant who is passionate about promoting wellness and helping people lead healthier, more fulfilling lives.
At Vitalistic360, we believe that optimal health is not just about treating symptoms, but about addressing the root causes of health issues and taking a holistic approach that encompasses the mind, body, and spirit. Our mission is to empower individuals to discover their unique path to optimal health through personalized content that is evidence-based, informative, and engaging.
We understand that there is no one-size-fits-all approach to wellness. That's why our content is designed to be personalized and tailored to the individual needs of our readers. From physical fitness to mental health, nutrition to healthy living, we cover a wide range of health-related topics to help our readers make informed decisions about their health and wellness.
All of our content is thoroughly researched and vetted from trusted internet sources, ensuring that our readers receive accurate and reliable information. We understand the importance of staying up-to-date with the latest research and trends in the health and wellness industry, and we are committed to delivering high-quality content that is informative and engaging.
As a medical aspirant, Mohd Sameer is deeply committed to promoting health and wellness through education and advocacy. He founded Vitalistic360 with the goal of providing individuals with the knowledge and tools they need to achieve optimal health and live their best lives.
In addition to our website, you can also connect with Vitalistic360 on social media. Follow us on Instagram, Facebook, Twitter, and Pinterest to stay up-to-date with the latest news and trends in the health and wellness industry.
We are excited to launch Vitalistic360 and invite you to join us on your journey to optimal health. Discover your path to optimal health with Vitalistic360 – your trusted resource for all things health and wellness.
To learn more about Vitalistic360, visit our website at www.vitalistic360.com, or follow us on Instagram, Facebook, Twitter, and Pinterest.
Follow us on social media:
• Instagram: @vitalistic360
• Facebook: @vitalistic360
• Twitter: @vitalistic360
• Pinterest: @vitalistic360