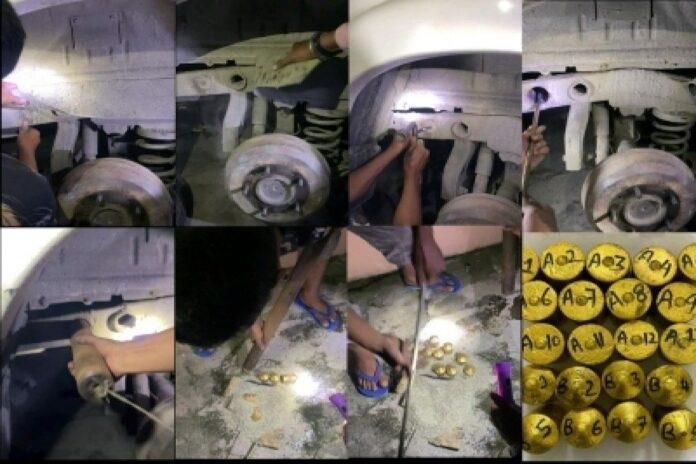 The Directorate of Revenue Intelligence (DRI) has said that they have seized 121 kg of smuggled foreign gold worth over Rs 58 crore and registered 11 cases in the last one month. "Recent gold seizures indicate a spurt in gold smuggling through the northeastern borders of Bangladesh and Myanmar. Whereas in the past porous borders have been used for smuggling.
They said that 11 cases of seizure of 121 kg of gold in September 2022 alone show that the NE corridor is still being used extensively by smugglers, who are deploying simple methods of concealment.
In one case, the DRI seized a large consignment of 65.46 kg of foreign-origin gold smuggled in, valued at Rs 33.40 crore. The gold was sent from Aizawl (Mizoram) to Mumbai in a domestic courier consignment. The DRI said the gold was kept hidden in cloth sacks.
In another operation, the DRI seized another huge quantity of gold of 23.23 kg of smuggled foreign origin, worth Rs 11.65 crore, which was being smuggled from Myanmar.
"Special intelligence indicates that there will be an attempt to smuggle substantial quantity of foreign origin gold concealed in the vehicle from Champhai-Aizawl, Mizoram to Kolkata, West Bengal," the official said. Coordinated action was taken for two consecutive days on 28 September and 29 September to ban the banned substances.
Acting on a tip-off, the DRI officials managed to nab four people traveling in two different vehicles on the highway connecting Siliguri and Guwahati. After a thorough search of their vehicles for two days, 23.23 kg of gold concealed in the body of the vehicle in the form of 21 cylindrical pieces was recovered.
The DRI official said that they registered a total of nine cases last month in which 27 kg of gold smuggled from various carriers coming from the northeastern state was seized.