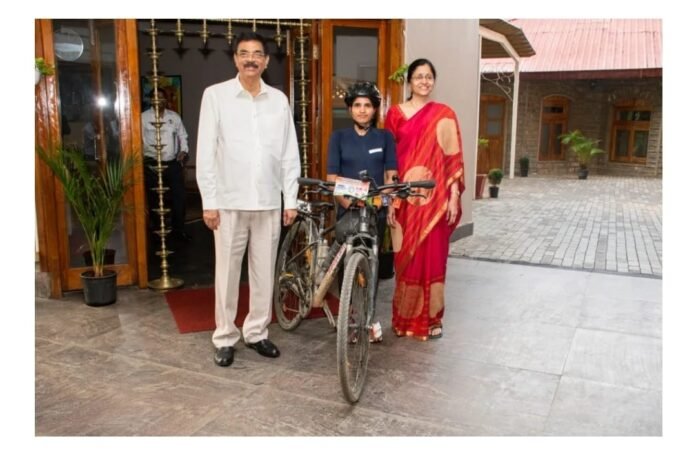 Aizawl, Mizoram – Aasha Malviya, a fearless and determined solo cyclist on a Pan India Cycle Tour to promote women's empowerment, had the privilege of meeting Mizoram Governor Dr. Hari Babu Kambhampati at the esteemed Raj Bhavan in Aizawl on a pleasant Friday evening. The encounter served as a significant moment, as Aasha shared her extraordinary journey and vision with the Governor, leaving an indelible mark on the pursuit of gender equality and empowerment.
At the young age of 25, Aasha Malviya embarked on a remarkable mission to traverse the vast expanse of India on her trusty bicycle, becoming an inspiration to countless individuals. Her dedication to women's empowerment has captivated the hearts and minds of people nationwide, as she fearlessly challenges societal norms and champions the cause.
The meeting between Aasha and Governor Dr. Hari Babu Kambhampati became a pivotal event for both the determined cyclist and the state of Mizoram. Governor Kambhampati, renowned for his commitment to inclusivity and equal opportunities, warmly welcomed Aasha to the Raj Bhavan, recognizing the importance of her mission.
During their encounter, Aasha shared her personal experiences, highlighting the triumphs and tribulations she encountered along her arduous journey. She emphasized the significance of women's empowerment, stressing its positive impact on society as a whole. Aasha's unwavering determination has become a catalyst for change, motivating women and girls across the nation to break barriers and pursue their dreams with unwavering determination.
Governor Dr. Hari Babu Kambhampati was deeply impressed by Aasha's incredible endeavor and commended her courage, resilience, and unwavering spirit. He expressed his admiration for her commitment to empowering women and pledged his unwavering support for her noble cause. The Governor also acknowledged the transformative power of initiatives such as Aasha's Pan India Cycle Tour, which sheds light on the importance of gender equality and women's rights.
Aasha's visit to Mizoram presents a unique opportunity to further promote women's empowerment within the state. With its rich cultural heritage and progressive mindset, Mizoram provides an ideal backdrop for her mission. Aasha intends to collaborate with local organizations, NGOs, and women's groups, working together to create a lasting impact within Mizoram's communities.
As Aasha continues her journey, she aims to inspire and empower women from all walks of life, breaking stereotypes and showcasing the limitless potential they possess. Her Pan India Cycle Tour has evolved into a symbol of courage, determination, and hope, instilling a renewed sense of belief in individuals throughout the nation, encouraging them to embrace their dreams and advocate for gender equality.
The meeting between Aasha Malviya and Mizoram Governor Dr. Hari Babu Kambhampati represents a significant milestone in her mission for women's empowerment. It serves as a testament to the profound impact one individual can make when driven by passion and a vision for change. Aasha's unwavering spirit, combined with the support of influential figures like Governor Kambhampati, propels the movement toward a more inclusive and equal society, where the voices of women are celebrated and heard.
As Aasha bids farewell to Mizoram, she carries with her the heartfelt wishes and support of the people she encountered during her journey. With every pedal stroke, she continues to inspire and uplift, leaving an indelible mark on the hearts of those who believe in the transformative power of women's empowerment.