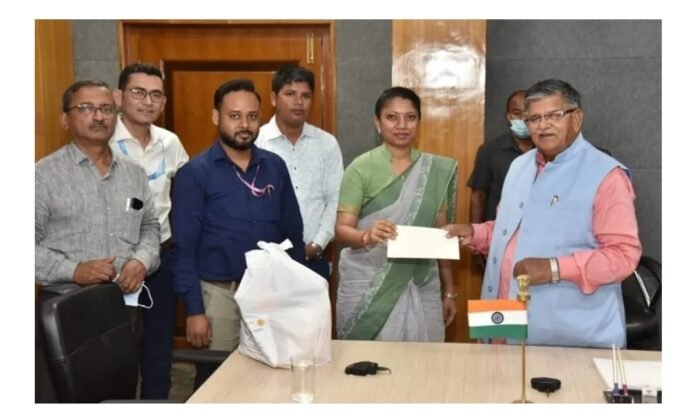 Guwahati, Assam: In a significant move to combat tuberculosis (TB) and promote community support, Governor Gulab Chand Kataria has stepped forward to adopt ten TB patients for a period of six months. This noble act comes as part of the Nikshay Mitra program, an initiative aimed at providing assistance to TB patients, under the Pradhan Mantri TB Mukt Bharat Abhiyaan.
Governor Kataria's adoption of these ten patients demonstrates a strong commitment towards eradicating TB and ensuring the well-being of individuals affected by this infectious disease. By personally pledging support, he sets an inspiring example for others to follow, emphasizing the importance of compassion and collective effort in tackling health challenges.
Tuberculosis continues to be a pressing public health issue in India, and Assam is no exception. The state faces several challenges in combating TB, including limited access to healthcare services, social stigma, and a lack of awareness about the disease. In this context, the Nikshay Mitra program plays a crucial role in bridging these gaps and providing holistic support to TB patients.
The program, launched under the Pradhan Mantri TB Mukt Bharat Abhiyaan, aims to strengthen the support system for TB patients, particularly those from marginalized sections of society. It recognizes that addressing TB requires more than just medical interventions; it requires a comprehensive approach that includes social, emotional, and financial support for patients and their families.
Through his adoption of these patients, Governor Kataria will not only provide financial assistance but also offer emotional support, ensuring that they receive the necessary medical care, counseling, and guidance throughout their treatment journey. This gesture showcases the power of leadership and the positive impact it can have on individuals' lives.
Governor Kataria's involvement in the Nikshay Mitra initiative sends a powerful message that TB patients deserve attention, care, and support from society as a whole. It encourages individuals, organizations, and communities to come together and contribute towards the fight against TB. By embracing the initiative, the Assam government reinforces its commitment to achieving the goals of the Pradhan Mantri TB Mukt Bharat Abhiyaan, which envisions a tuberculosis-free India.
This adoption also serves as a call to action for other prominent figures, individuals, and organizations to join hands in supporting TB patients and raising awareness about the disease. Encouraging community involvement is vital to building a resilient healthcare system that can effectively combat tuberculosis and other public health challenges.
The state of Assam faces unique challenges in its fight against TB. Its geographical diversity, socio-economic conditions, and cultural factors can impact the spread and control of the disease. Therefore, the active participation of influential figures like Governor Kataria is crucial in bringing attention to the issue and driving positive change.
As the Nikshay Mitra initiative gains momentum with the active involvement of prominent figures, it is anticipated that Assam will witness a positive impact on the lives of TB patients. This adoption not only provides direct support to the ten adopted patients but also raises awareness about TB and encourages early detection, treatment, and adherence to medication.
By adopting a proactive and community-oriented approach, the Assam government aims to reduce the stigma associated with TB and ensure that patients receive the care and support they need without fear of discrimination or isolation. This approach is essential for achieving better health outcomes and building a society that is inclusive, empathetic, and supportive of those affected by TB.
Governor Kataria's act of adopting ten TB patients sets an example for others in positions of influence to follow suit. It demonstrates that every individual, regardless of their social or economic standing, can contribute.