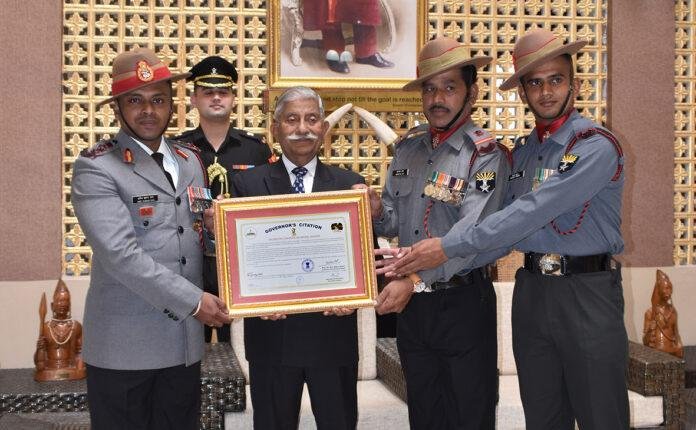 In a rather proud moment for the 6th Battalion of Assam Rifles also known as the Khonsa Battalion, the Governor of Arunachal Pradesh – Brig. (Dr.) B.D. Mishra (Retd.) today on 17th August awarded the said battalion of the prestigious security force with the Government's Citation for their "conspicuous proficiency, elan, and sagacity in counter-insurgency operations"
"The Governor presented the Citation to the 6th Battalion of the Assam Rifles for conspicuous proficiency, elan, and sagacity in tackling the daunting challenges to their professional mandate in countering the insurgency issues and creating bonhomie with the people in their area of responsibility", reads a press communique issued by the Raj Bhawan.
The citation was received by the of Assam Rifles' 6 Battalion's Commandant Colonel Amit Kumar Das, Subedar Major Narayan Das, and Junior most Rifleman Vikash Kumar in a ceremony held in the Governor's residence at Itanagar's Raj Bhawan.
Brig. Mishra praised Col. Amit Kumar and his troops for the effective operational planning, skill, fervour, and fine-tuning in carrying out and fulfilling their responsibilities.
In his word of praise to the force, Brig. Mishra said, "Despite being faced with the nefarious actions from various underground organizations, the unit stood firm and kept the insurgents on the run in their area of responsibility,"
The press communique issued added that, Brig. Mishra also praised the battalion for their exemplary security role and social work.
The Assam Rifles is the oldest paramilitary force in India and was formed in 1835 under the British Raj under the name Cachar Levy. The present name of the force 'Assam Rifles' came into use in 1917. Alike Rashtriya Rifles in the J&K, Assam Rifles too is a region-specific force that has been vested with the duty of carrying out anti-insurgency operations in Northeast India and maintaining peace and security in the region. Since 2002 the force has been given the role of guarding the India–Myanmar border across the northeastern state of Arunachal Pradesh, Manipur and Mizoram.