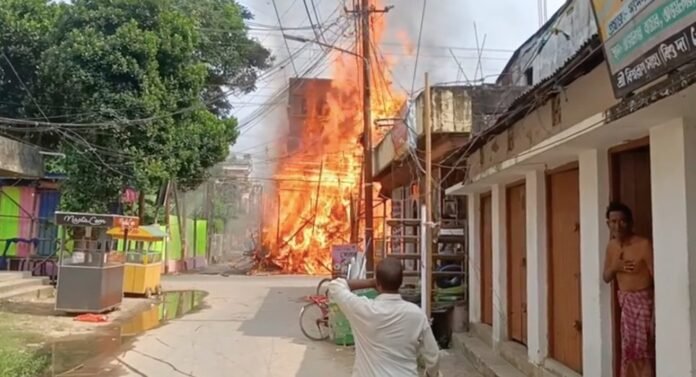 Durga Puja pandal, erected by the Abhoynagar Bloodsun Club in Agartala, Tripura, fell victim to a devastating fire just days before the much-anticipated festival. The incident, which occurred today, has cast a pall of sorrow over the local community, leaving them in shock and disbelief.
Eyewitnesses reported the horrifying sight of a massive blaze engulfing the pandal in broad daylight. Despite the valiant efforts of onlookers and local authorities, the flames swiftly consumed the structure, leaving little in their wake.
The pandal, a symbol of cultural celebration and religious fervor, stood as a centerpiece for the upcoming Durga Puja festivities. Its destruction is a poignant loss for the community, which had eagerly awaited the occasion to pay homage to the revered goddess.
The immediate aftermath of the fire has left the members of the Bloodsun Club and the residents of Abhoynagar grappling with a profound sense of loss. The painstaking efforts that went into crafting the pandal and the anticipation surrounding the festivities have been abruptly cut short by this tragic incident.
As the community comes to terms with this unforeseen calamity, questions are raised about the cause of the fire and the potential impact on the upcoming celebrations. Authorities are expected to conduct a thorough investigation to ascertain the circumstances leading to this devastating incident.