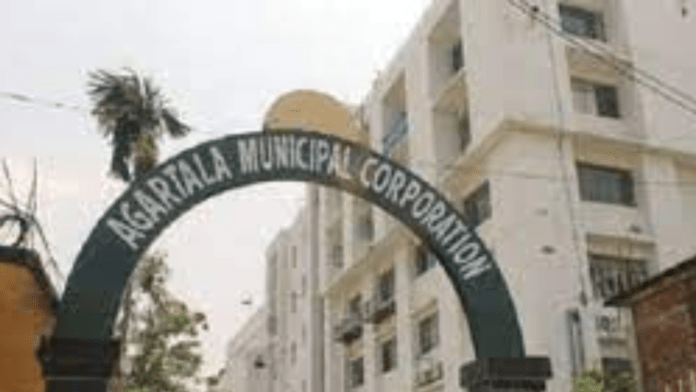 The Agartala Municipal Corporation (AMC) raised the wages of hundreds of temporary and part-time workers on Tuesday, just a few days before the Durga Puja festival. This was done to meet the long-standing needs of these workers.
Mayor Dipak Majumder, who was there with Deputy Mayor Manika Das Dutta and AMC Commissioner Dr. Shailesh Yadav, said that 2,163 temporary and contract workers were hired to do different jobs for AMC, such as cleaning and making the city look better.
He said that since the AMC was made into a corporation, the council has been planning to raise their pay. Finally, the AMC has decided to raise its workers' pay, just like state government workers.
As a result of the AMC's decision, all casual workers will now get Rs. 300 per day, which is an increase of Rs. 52, and 417 women who collect garbage door to door will get an incentive of Rs. 500 per month, said the Mayor. He also said that 39 contractual employees of the corporation will get a salary increase of Rs. 3,000 per month. Majumder said that AMC will pay for the extra costs of Rs. 4.29 crore per year with money it makes on its own.
While the mayor said that the AMC had done a lot of cleaning and decorating before the Durga Puja celebrations and had taken other steps to help the people so that the celebrations went smoothly and were well lit.
Mayor Dipak Majumder of the Agartala Municipal Corporation (AMC) talked about the preparations for the puja. He said that the AMC has started a lot of cleaning work all over the city to get rid of trash and maintain other basic services during the festival. He also said that the city's most important roads have been lit up with tricolor lights, and the city's light posts will also have street lights.
During the Puja days, Agartala Municipal Corporation (AMC) took steps to improve the city's beauty, cleanliness, and other public services. Mayor Dipak Majumder said that a package of Rs. 5 crores was used for beautification, and six important roads in the city were lit up with tricolor lights. Majumder said that the AMC used to give Rs. 6 lakh to each of its 51 wards for maintenance work before pujas. Now, the AMC has given each ward an extra Rs. 4 lakh.
The Mayor asked the people who live in the capital city to keep the city clean and work with AMC. He also asked the people of the city to put their trash in their own places or in trash cans so that the city would stay clean.