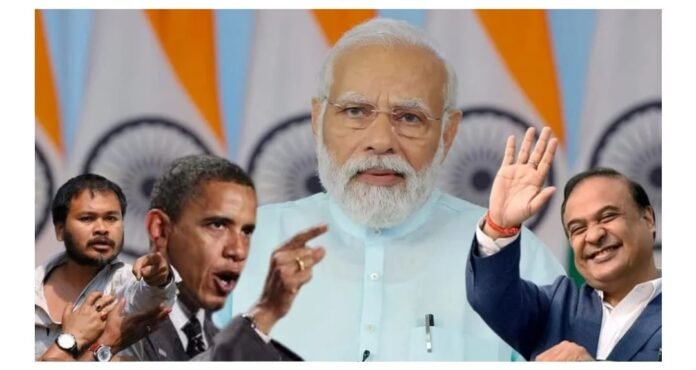 Guwahati, Assam – In a significant turn of events, Sivasagar MLA Akhil Gogoi has issued an apology to Prime Minister Narendra Modi for the controversial remark made by Chief Minister Himanta Biswa Sarma regarding former U.S. President Barack Obama.
The incident occurred during a public gathering in Guwahati, where CM Sarma used the term 'Hussain Obama' while addressing a crowd. The remark sparked widespread criticism, with many deeming it racially insensitive and inappropriate.
Recognizing the gravity of the situation, Akhil Gogoi, a prominent political figure in Assam, expressed regret for the Chief Minister's remark and took it upon himself to apologize to Prime Minister Modi on behalf of the state. Gogoi acknowledged that such derogatory comments have the potential to strain international relationships and tarnish India's image on the global stage.
"I extend my sincere apologies to Prime Minister Narendra Modi for the offensive comment made by Chief Minister Himanta Biswa Sarma. As public representatives, it is our responsibility to maintain decorum and refrain from using language that can be deemed disrespectful or offensive," Gogoi stated in his public apology.
He further emphasized the need for elected officials to set a positive example for the public and promote harmony and respect among diverse communities. Gogoi highlighted that it is crucial to foster an inclusive environment that celebrates diversity and upholds the values of unity and dignity.
The MLA's apology comes as a welcome step, with many lauding his willingness to take accountability and seek amends for the controversial statement. The gesture reflects the importance of political leaders displaying integrity and acknowledging their role in nurturing a more inclusive society.
While it remains to be seen how the Prime Minister and other stakeholders respond to this apology, the incident has sparked discussions around the significance of responsible political discourse and the need to uphold mutual respect in public statements.
In conclusion, Akhil Gogoi's apology to Prime Minister Modi for the 'Hussain Obama' remark made by CM Sarma demonstrates a recognition of the need for accountability and maintaining dignified communication in the political arena. This incident serves as a reminder of the importance of fostering inclusive and respectful dialogue within society.