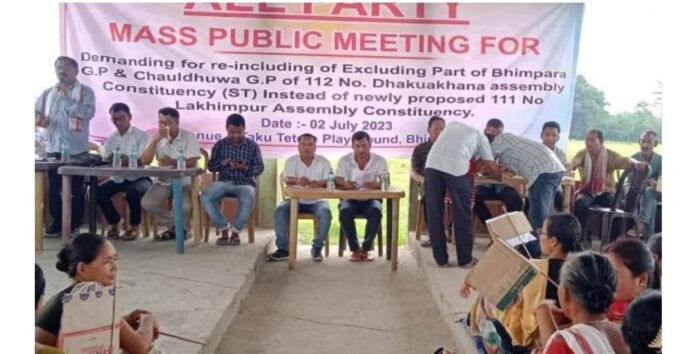 In a remarkable display of solidarity, prominent citizens from the Subansiri, Borkhamukh, and Bhimpora panchayats in Dhemaji, situated in North Assam's Lakhimpur district, have come together to voice their concerns against the recently proposed delimitation draft.
Delimitation, a process aimed at ensuring equitable representation in electoral constituencies, has sparked a wave of discontent among the residents of these panchayats. Recognizing the significance of their collective voices, these eminent citizens have taken a proactive stance to safeguard the interests and aspirations of their communities.
One of the primary concerns expressed by the citizens pertains to the potential division of their closely-knit panchayats. The proposed delimitation draft has raised apprehensions regarding the redrawing of boundaries, which could result in an altered political landscape and disrupt the social fabric of the region. The citizens argue that the proposed changes could lead to a dilution of their collective identity and the loss of close-knit community bonds that have been nurtured over generations.
Moreover, these eminent citizens emphasize the historical, cultural, and economic interdependence of the Subansiri, Borkhamukh, and Bhimpora panchayats. They highlight the synergistic relationships that have been established over time and the shared aspirations for progress and development. The citizens fear that any arbitrary reconfiguration of the panchayat boundaries may hinder the collaborative efforts and disrupt the harmonious growth they have strived for.
Additionally, the citizens stress the importance of ensuring fair representation for their communities. They assert that the proposed delimitation could inadvertently lead to disparities in political representation, resulting in a potential marginalization of their interests. By coming together, these eminent citizens aim to safeguard the democratic principles of inclusivity and equal representation that underpin the foundation of a robust electoral system.
The unity exhibited by these citizens has provided impetus to a broader movement seeking transparency and inclusivity in the delimitation process. They have actively engaged with local authorities, organized peaceful demonstrations, and raised their concerns through various channels to amplify their voices. Their collective efforts aim to ensure that the concerns and aspirations of the Subansiri, Borkhamukh, and Bhimpora panchayats are heard and considered during the decision-making process.
As the debate surrounding the delimitation draft continues, it is clear that the eminent citizens of Dhemaji remain steadfast in their commitment to protect the interests of their panchayats. Their unwavering determination serves as an inspiring example of civic engagement, highlighting the importance of public participation in shaping policies that impact the lives of communities.
The coming days will undoubtedly witness the progression of this movement, as these eminent citizens strive to find common ground with the relevant authorities and facilitate a constructive dialogue. It is hoped that through such engagement, a solution can be reached that preserves the unity, cultural heritage, and democratic principles that are fundamental to the Subansiri, Borkhamukh, and Bhimpora panchayats, ensuring a future that addresses their concerns while embracing progress and development.