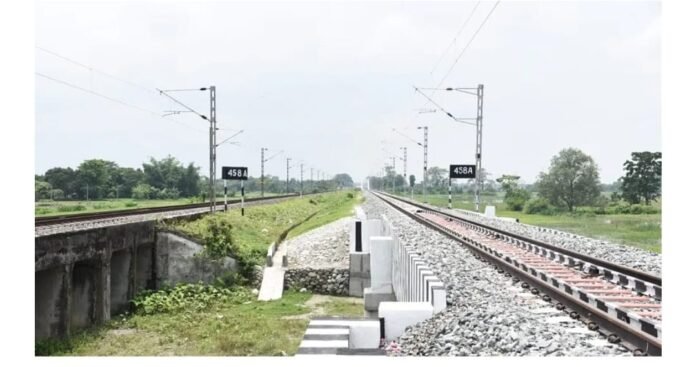 Guwahati, Assam – In a significant stride towards enhancing railway infrastructure and connectivity in Assam, the Commissioner of Railway Safety (Northeast Frontier circle), Suvomoy Mitra, recently completed the mandatory inspection of the newly laid double train line between Bijni and Sorbhog. The successful inspection paves the way for improved transportation services and increased efficiency along this vital rail corridor.
The development of a double train line between Bijni and Sorbhog holds immense significance for both the region's economy and the convenience of passengers. This new line aims to alleviate congestion, enhance operational capacity, and reduce travel time between these two important stations.
The comprehensive inspection conducted by Commissioner Suvomoy Mitra involved rigorous evaluation of various aspects, including track alignment, signaling systems, level crossings, platform infrastructure, and safety measures. The primary objective was to ensure compliance with strict safety standards and regulations to guarantee the utmost security for passengers and train operations.
The successful completion of the inspection indicates that the newly laid double train line meets the necessary safety requirements. With this green signal, the railway authorities can proceed with full confidence towards operationalizing the line and commencing regular train services.
The implementation of the double train line will bring a host of benefits to the region. It is expected to significantly enhance transportation capacity, thereby accommodating a higher volume of passenger and freight traffic. This expansion will not only promote ease of travel but also facilitate smoother movement of goods, fostering economic growth and development in Assam.
Improved connectivity between Bijni and Sorbhog stations will also enhance the overall efficiency and reliability of train services in the region. With reduced congestion and enhanced operational capabilities, passengers can look forward to more punctual and comfortable journeys.
The completion of this infrastructure project reflects the commitment of the railway authorities towards modernizing and upgrading the existing network. It is a testament to their efforts to provide state-of-the-art facilities and services to the people of Assam.
As the newly laid double train line between Bijni and Sorbhog gets ready for operation, it brings renewed hope for the region's future. The improved connectivity and enhanced transportation capacity are expected to drive economic growth, promote tourism, and strengthen social ties among communities.
The successful inspection by Commissioner Suvomoy Mitra marks a significant milestone in the development of Assam's railway infrastructure. It sets the stage for a more efficient and reliable railway network, contributing to the overall progress and prosperity of the region.