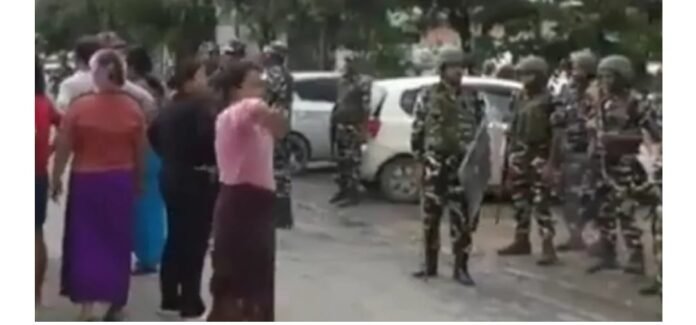 In a disturbing turn of events, a clash between a mob and security personnel in Imphal, Manipur has resulted in several individuals sustaining serious injuries. The incident, which took place [specify date or time], has sparked concerns about the escalating tensions in the region.
According to eyewitness accounts, the clash began when a mob gathered in the streets, expressing their grievances and demanding action on a particular issue. The exact nature of the issue that triggered the protest remains unclear at this time. However, the situation quickly escalated, leading to a confrontation with the security personnel deployed to maintain law and order.
As tensions intensified, the clash turned violent, with both sides resorting to aggressive tactics. Reports indicate that the mob resorted to pelting stones and setting fire to nearby structures, leading to a chaotic and dangerous environment. In response, the security personnel deployed tear gas and employed other crowd-control measures to disperse the mob.
Emergency services rushed to the scene to provide medical assistance to those injured in the clash. The injured individuals were swiftly transported to nearby hospitals for further treatment. The exact number of casualties is yet to be confirmed, and it is hoped that all injured individuals will receive the necessary medical attention and recover swiftly.
The incident has prompted a significant deployment of additional security forces to the affected area to restore calm and prevent further escalation of violence. Authorities have also initiated an investigation into the circumstances that led to the clash, aiming to identify those responsible for the outbreak of violence.
The local administration has appealed for calm and urged citizens to maintain peace, emphasizing the importance of dialogue and constructive engagement to address grievances. Community leaders, civil society organizations, and local authorities have been urged to come together to find a peaceful resolution to the situation and prevent further unrest.
The incident in Imphal has raised concerns about the overall security situation in Manipur. It serves as a reminder of the complex challenges faced by the region and the need for concerted efforts to address underlying issues and maintain peace and stability.
As the situation unfolds, it is crucial for all stakeholders to prioritize peaceful means of dialogue and engagement to address grievances and work towards long-lasting solutions. The well-being and safety of the residents of Imphal and Manipur must remain the top priority as efforts are made to restore peace and normalcy in the region.