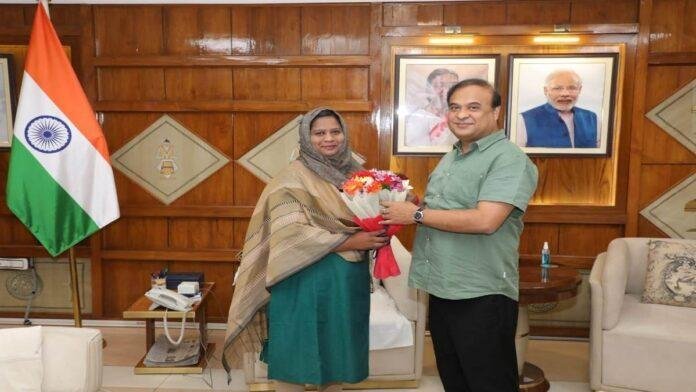 Syed Shahzadi, a senior member of the National Commission for Minorities, met Assam Chief Minister Himanta Biswa Sarma here on Wednesday and discussed the minority communities in the state. Discussed various issues.
Shehzadi has said that during the meeting the State Government has been asked to expedite the implementation of the schemes made for the development of minority communities in the State. Shehzadi said the meeting laid special emphasis on setting up of Minorities Finance Corporation and Minorities Development Commission at the state level as these bodies are important to benefit all eligible people.
Addressing a press conference here at the end of her three-day visit to the state, Shehzadi said, "I held meetings with officials, spiritual leaders, and State Minority Development Board during my visit. "During my meeting with the Chief Minister yesterday, I told him that the kind of work being done for the minorities in the state is satisfactory, but it needs to be accelerated," he said.
The State Minority Finance Corporation is dormant for the last ten years and the Minority Development Commission is also not functioning for some time. He said that such bodies are necessary to ensure that the benefits of government schemes reach the beneficiaries who need them the most.
Shehzadi said that he said that the Wakf Board committee is also yet to be formed, while the minority development committee in the state has only a chairman and vice-chairman but no members yet. The NCM member said, "The Chief Minister has given a positive response to this and we will soon get a detailed report on all the issues raised during our meeting with him."