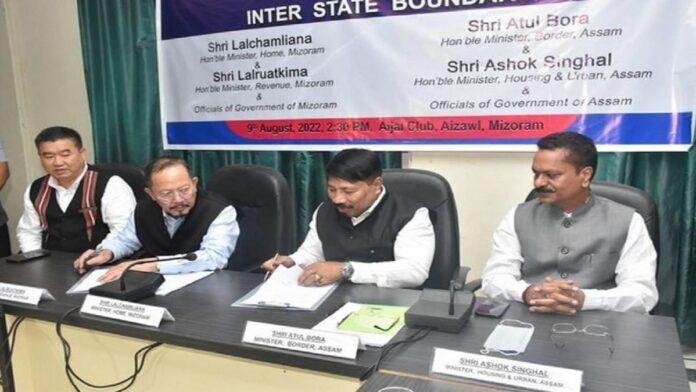 Mizoram and Assam on Wednesday agreed to maintain cordial relations between the police forces of the two states deployed along the inter-state border. This was agreed upon in a meeting of the Deputy Commissioners of the five border districts to discuss the border issue in Wairangte town of Mizoram. These districts include Kolasib and Mamit in Mizoram, and Cachar, Karimganj, and Hailakandi districts of Assam.
Both sides have also agreed to take measures to ensure that farmers on both sides of the border can carry out agricultural activities without any hindrance.
On August 9, both the states agreed to maintain peace along the border by holding a ministerial meeting in Aizawl. Both sides had agreed to hold a meeting of the Deputy Commissioners of the border districts at least once in every two months.
The governments of Assam and Mizoram signed a joint statement on 9 August 2022 after ministerial discussions to take forward the process of resolution of the border dispute between the two states. According to the statement, both the states had agreed to promote and maintain peace to prevent any untoward incident along the borders. Also, the Deputy Commissioners of the border districts of both states will meet at least once in two months.
The next meeting between the high-level delegations of both the states will be held in Guwahati in October this year where the issues and claims will be discussed in detail.
There is a 164.6 km long border between Assam and Mizoram. There have been many conflicts in the last few years along the border of the two states. In August last year, representatives of both states held talks in Aizawl. During this, they had agreed to maintain peace and resolve the inter-state border dispute through dialogue.