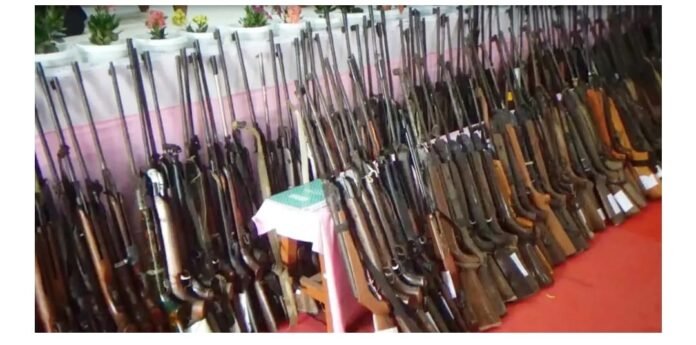 Guwahati, Assam – In a concerning development, a previously unknown militant organization has purportedly emerged in the Bodoland Territorial Region (BTR) of Assam, identifying itself as the Boro Liberation Army (BLA). The emergence of this group has raised alarm bells within the security apparatus, prompting authorities to assess the situation and formulate an appropriate response.
Reports suggest that the Boro Liberation Army (BLA) has quickly made its presence known, displaying signs of organized activity and exhibiting a determination to assert its influence in the region. The motives and objectives of the group remain unclear at this stage, making it imperative for authorities to gather intelligence and ascertain their intentions.
The Bodoland Territorial Region (BTR), which was created as an autonomous administrative unit in Assam, has witnessed significant progress in recent years towards peace and development. Efforts to address longstanding grievances and aspirations of the Bodo community have largely contributed to stability and peace-building in the region. However, the emergence of the BLA poses a potential threat to the hard-earned progress made thus far.
Security agencies have intensified their efforts to gather information about the Boro Liberation Army, seeking to understand their ideology, leadership structure, and operational capabilities. Heightened vigilance and intelligence sharing have become paramount in order to effectively neutralize any potential threat posed by the group.
Local communities, civil society organizations, and political leaders have expressed concern over the emergence of this new militant outfit. They have called for collaborative efforts among various stakeholders to maintain peace and stability in the region. It is widely acknowledged that addressing the underlying grievances and aspirations of marginalized communities through peaceful means remains essential to prevent the rise of such militant groups.
The government of Assam has assured its commitment to maintaining law and order in the Bodoland Territorial Region (BTR) and has vowed to take all necessary measures to neutralize any security threats posed by the Boro Liberation Army (BLA). This includes intensifying security operations, enhancing intelligence gathering capabilities, and engaging with stakeholders to address the root causes of discontent.
As the situation continues to evolve, it is crucial for authorities to remain vigilant and responsive to any potential security threats while simultaneously addressing the underlying issues that contribute to the emergence of such militant groups. The stability and progress achieved in the Bodoland Territorial Region (BTR) must not be compromised, and concerted efforts from all stakeholders are necessary to ensure lasting peace and development in the region.