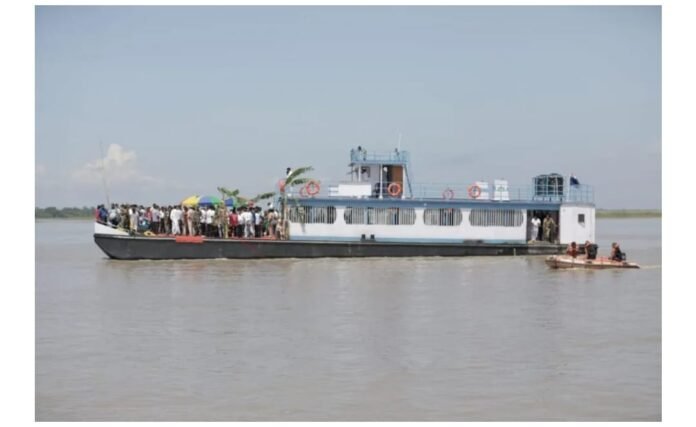 The Inland Water Transport (IWT) Department of Assam has recently announced the temporary suspension of night ferry services between Guwahati and North Guwahati. This decision comes as a precautionary measure due to the escalating water levels in the region, posing potential risks to passenger safety.
As the water levels rise in the Brahmaputra River, which separates Guwahati and North Guwahati, the IWT Department has prioritized the safety and well-being of commuters. The suspension, set to be implemented from Saturday onwards, aims to mitigate any potential hazards that may arise during nighttime crossings.
Nighttime ferry services have long been a popular transportation option for residents and visitors traveling between Guwahati and North Guwahati. These services not only provide a convenient mode of transport but also offer breathtaking views of the river and surrounding landscapes.
However, the recent rise in water levels, likely influenced by monsoonal rainfall, has prompted authorities to take proactive measures. The decision to suspend night ferry operations reflects the IWT Department's commitment to ensuring passenger safety and preventing any untoward incidents during this challenging period.
While the suspension of night ferry services may cause inconvenience to regular commuters and tourists, it is crucial to recognize the significance of prioritizing safety amid adverse weather conditions. The IWT Department continues to monitor the water levels closely and will reassess the situation periodically to determine when the services can be resumed.
It is advisable for passengers to seek alternative transportation arrangements during this period, especially for those who rely on nighttime crossings. Authorities have urged commuters to stay informed through official channels and media updates to stay abreast of any changes or announcements regarding the resumption of ferry services.
In the meantime, the IWT Department, in collaboration with local authorities, will focus on ensuring the necessary maintenance and infrastructure upgrades to enhance the safety and efficiency of the ferry services. This proactive approach demonstrates their commitment to providing reliable and secure transportation options for residents and visitors alike.
As the region faces the challenges posed by rising water levels, the temporary suspension of night ferry services between Guwahati and North Guwahati serves as a reminder of the importance of safety precautions during such circumstances. The IWT Department's decision aligns with their primary goal of safeguarding the well-being of passengers, and they aim to resume normal operations as soon as conditions permit.
In the interim, commuters are encouraged to exercise caution and remain updated on the latest developments through official sources. By prioritizing safety and adhering to the recommendations of the authorities, travelers can contribute to a smoother transition until the night ferry services can be restored.