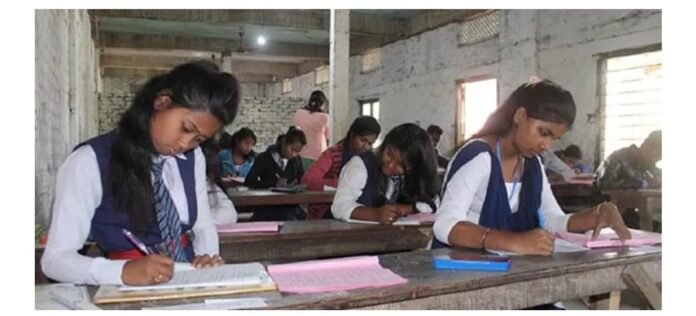 In a major development, Assam's Chief Minister, Himanta Biswa Sarma, has announced that there will be a significant change in the examination system for class 10 students starting from the next academic year. The state government has decided to do away with the traditional High School Leaving Certificate (HSLC) exams.
This decision marks a departure from the long-standing practice of conducting board exams for class 10 students in Assam. The move comes as part of the government's efforts to bring about a more comprehensive and holistic evaluation system, aligning it with the evolving educational landscape.
Under the new system, instead of the HSLC exams, students will be evaluated through alternative assessment methods, taking into account their overall performance and skill development across various subjects. This shift aims to reduce the undue stress and pressure that students often experience during the board exam period.
Chief Minister Sarma emphasized that the decision was driven by the vision of providing a more inclusive and student-centric education system. The move is expected to foster a conducive learning environment that encourages students to explore their potential beyond the confines of a single examination.
The state government is actively working on developing the framework for the new assessment system. It will take into account various factors, including continuous evaluation, project work, practical assessments, and periodic performance reviews throughout the academic year. The focus will be on nurturing critical thinking, problem-solving abilities, and practical application of knowledge among students.
This transition also aligns with the broader national shift towards competency-based education, which emphasizes holistic development and the acquisition of 21st-century skills. By moving away from the conventional board exams, Assam aims to better equip its students for future challenges and opportunities in an increasingly competitive world.
While the decision has generated mixed responses among stakeholders, with some expressing concerns about maintaining the credibility of the evaluation process, the state government is committed to implementing the new system effectively. Extensive consultations with education experts, teachers, and parents will be conducted to ensure a smooth transition and address any potential challenges.
The change in the examination system for class 10 students in Assam reflects a progressive step towards redefining educational practices and emphasizing the all-round development of students. As the state embarks on this new path, the true impact of this decision will unfold in the coming years, reshaping the educational landscape and nurturing a generation of well-rounded individuals ready to take on the future.