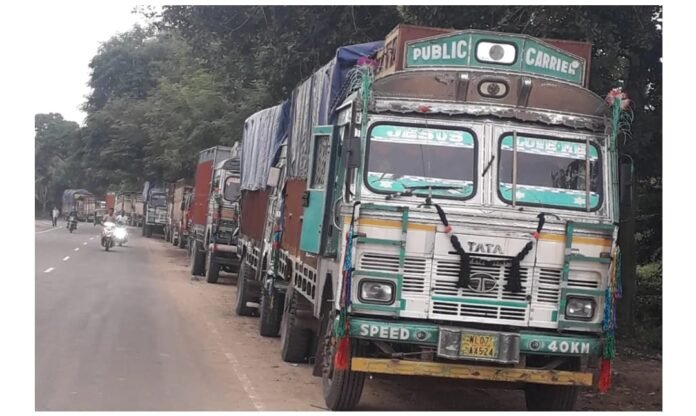 Guwahati: In a concerning incident, two police constables from the Tihu Police Station in Nalbari, Assam have been reserve closed following allegations of assaulting a truck driver in the vicinity of NH-31. The incident has sparked outrage among the public and raised questions about the behavior of law enforcement officials.
According to witnesses and preliminary reports, the incident unfolded on [Date] when the truck driver, whose identity remains undisclosed, was passing through the NH-31 area. Allegedly, the two constables approached the truck driver and engaged in a heated argument, which quickly escalated into a physical altercation. The victim sustained injuries during the altercation and was later provided medical assistance.
The news of the incident spread rapidly, triggering a wave of condemnation from local residents and various sections of society. Concerns were raised regarding the misuse of power by law enforcement officials and the need for strict action to maintain the public's trust in the police force.
Taking cognizance of the gravity of the situation, the authorities wasted no time in addressing the matter. The Superintendent of Police (SP) of Nalbari, in coordination with higher-ranking officials, promptly initiated an inquiry into the incident. Following a thorough investigation and careful consideration of the available evidence, the decision was made to reserve close the two constables involved.
The reserve closure, which entails the suspension of their duties pending a full investigation, serves as an immediate disciplinary measure against the accused officers. This action demonstrates the commitment of the local police department to uphold accountability and maintain the integrity of the force.
Speaking on the incident, the SP of Nalbari assured the public that such acts of misconduct would not be tolerated under any circumstances. He emphasized that the police force is committed to serving and protecting the community, and any breach of trust would be dealt with sternly.
Furthermore, the SP encouraged citizens to come forward with any information or complaints related to the incident or any other case of police misconduct. He assured the public that their concerns would be taken seriously and thoroughly investigated.
The reserve closure of the two constables has been seen as a significant step toward maintaining transparency and accountability within the police force. It is expected that a fair investigation will be conducted, ensuring that appropriate action is taken against those found guilty.
As the incident continues to be investigated, it serves as a reminder of the importance of a responsible and ethical police force. The actions taken in response to this incident will play a crucial role in restoring public trust and ensuring that such incidents are not repeated in the future.
The authorities are committed to delivering justice and ensuring the safety and security of all citizens. The outcome of the investigation will be eagerly awaited by the public, who hope for a fair and impartial resolution to this unfortunate incident.