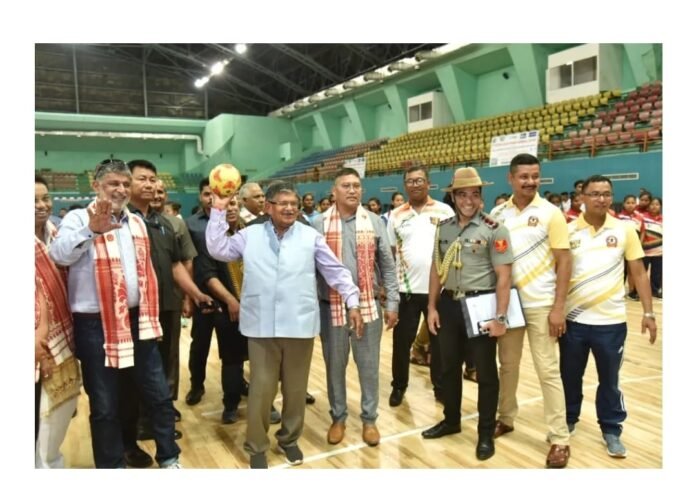 The eagerly anticipated second edition of the Assam Premier Handball League commenced at the Sarusajaj Sports Complex in Guwahati on Saturday. Organized by the Assam Handball Academy and the Assam Handball Association, the tournament promises to showcase the finest talent in the state.
Handball enthusiasts and sports lovers alike flocked to the venue as teams from various districts and cities across Assam took to the court. The league aims to popularize the sport and provide a competitive platform for aspiring handball players in the region.
The inaugural match of the tournament witnessed an exhilarating display of skill, teamwork, and determination from the participating teams. With their eyes set on the championship title, players showcased their prowess and battled fiercely to secure victory for their respective sides.
The Assam Premier Handball League serves as a stepping stone for local athletes, offering them an opportunity to shine on a larger stage. It also serves as a platform for talent scouts and selectors to identify promising players who could potentially represent the state or even the country in future national and international competitions.
By organizing such a league, Assam demonstrates its commitment to nurturing sports culture and encouraging youth participation. The tournament not only elevates the popularity of handball but also instills a sense of camaraderie and healthy competition among players and fans.
In addition to the sporting spectacle, the Assam Premier Handball League also serves as a source of entertainment for the enthusiastic crowd. Spectators can witness fast-paced action, impressive goals, and breathtaking saves, all contributing to an electric atmosphere within the Sarusajaj Sports Complex.
As the league progresses, the excitement is expected to build, with fierce competition and thrilling matches anticipated throughout the tournament. The Assam Handball Academy and the Assam Handball Association have put in commendable efforts to ensure the smooth organization of the event, making it a memorable experience for participants and spectators alike.
The second edition of the Assam Premier Handball League holds great promise for the growth and development of handball in the state. With its focus on fostering local talent and providing a professional platform for players, the league aims to establish Assam as a hub for handball excellence.
Sports enthusiasts across the region eagerly await the unfolding drama, cheering for their favorite teams and celebrating the spirit of the game. The Assam Premier Handball League promises to be a thrilling journey, showcasing the immense potential and passion for handball in Assam.