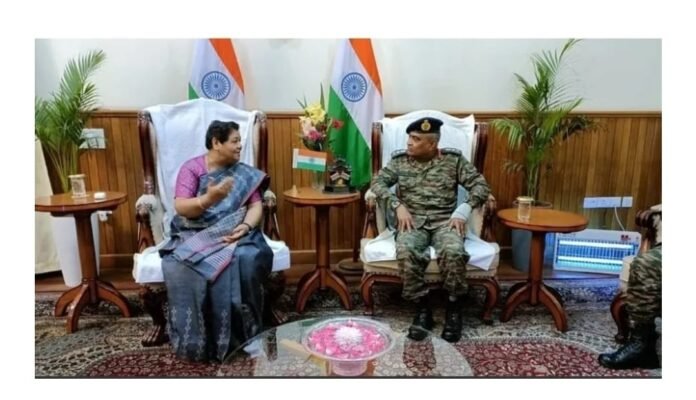 Guwahati: In a significant development, the Chief of Army Staff, General Manoj Pande, embarked on a two-day visit to the crisis-ridden northeastern state of Manipur. The visit, which commenced on Saturday, carries great importance amidst the prevailing challenges in the region.
General Pande's arrival in Manipur marks a crucial step by the Indian Army to address the unrest and strife that has affected the state. With his visit, the Army Chief aims to assess the ground situation and engage with local authorities, security forces, and community leaders to devise strategies for restoring peace and stability.
The volatile conditions in Manipur have posed significant security concerns, prompting the Army's high-level attention. General Pande's visit is expected to bolster the ongoing efforts to curb violence and establish a conducive environment for the well-being of the people. The presence of the Army Chief demonstrates the government's commitment to resolving the crises and underscores the significance of collective efforts in maintaining law and order.
During his stay, General Pande will hold crucial meetings with key stakeholders, including state government officials, military commanders, and intelligence agencies. These consultations will serve as a platform to exchange perspectives, discuss challenges, and identify effective measures to counter insurgent activities, maintain border security, and ensure the safety of the civilian population.
The Army Chief's visit also provides an opportunity to acknowledge the relentless efforts of the security forces deployed in Manipur. He is expected to interact with troops on the ground, boosting their morale and expressing gratitude for their unwavering commitment and sacrifices in safeguarding the region.
Furthermore, General Pande's presence sends a strong message of reassurance and solidarity to the people of Manipur. It highlights the central government's resolve to address their concerns and work towards sustainable peace and development in the state. The Army Chief's visit acts as a bridge between the government and the local communities, fostering trust and cooperation in the pursuit of common goals.
As General Pande's two-day visit progresses, the focus remains on strengthening security arrangements, enhancing intelligence sharing, and fostering a harmonious relationship between the Army and the state administration. The collaborative efforts during this visit are expected to pave the way for long-term stability, economic growth, and prosperity in Manipur.
General Manoj Pande's arrival in strife-torn Manipur underlines the government's commitment to resolving the challenges faced by the state. With a comprehensive agenda encompassing meetings with various stakeholders and boosting the morale of the security forces, the Army Chief's visit holds immense significance in restoring peace, promoting development, and ensuring the well-being of the people in Manipur.