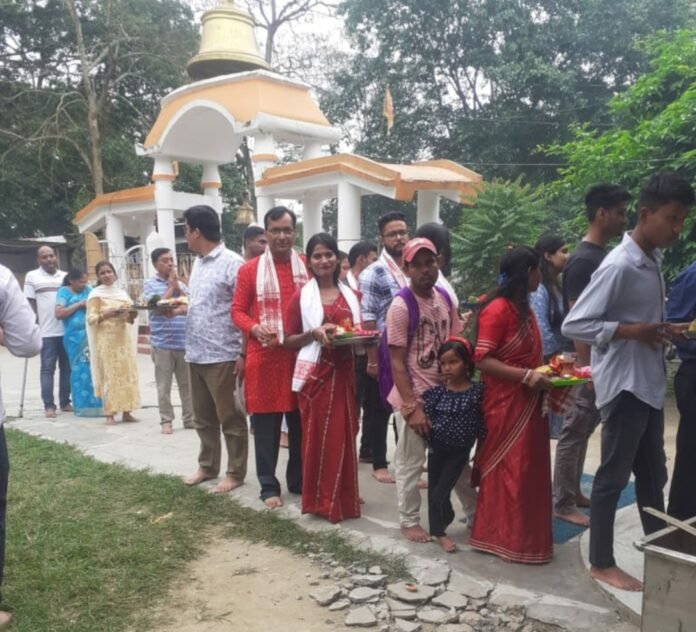 Guwahati: Thousands of pilgrims, spiritual & occult science researchers, devotees of Lord Shiva, and paranormal stories authors throng at Tilinga Mandir, the bell temple in Upper Assam's Tinsukia district around the year from across the world especially in the month of holy Shravana ( Sawan ).
Tilinga Mandir is about 18 kilometers from Tinsukia Noupukhuri Bus Stand. 518 kilometers from the capital Guwahati. 41 kilometers from the nearest airport ( Dibrugarh, Mohan Bari ) and 23 kilometers from the nearest Hijuguri New Tinsukia Railway Junction. 
Now the story of this Mandir with having the supernatural power begins – There may be a political row over the map of India in Nepal political zones which is hanging in the newly built parliament building but for the Nepali people India is a holy pilgrimage – Tilinga Mandir in Tinsukia is one of them.
Shiva Shankar Sarma has traveled thousands of kilometers from Kathmandu to Tinsukia's Tilinga Mandir with the whole family. Ties a bell in the temple and offers Puja to Lord Shiva and Dangoria Baba ( the holy people tree regarded as thousands of years old .)
Sarma says to BOROK TIMES, " In 2018 I traveled to this temple and wished for something. As my wish fulfilled, I came to offer a Puja and tie a bell ." 
Sarma is not only, thousands of devotees feel the power here of the invisible almighty. Crores of bells in the mandir campus is the proof. The sheer volume of bells at Tilinga Mandir in Tinsukia district's Hugrijan Bordubi will make one believe that wishes do come true here.
Generally, the temple is open every day for one and all but Monday is special as thousands turn from Itanagar to Delhi, Ahmedabad to Mumbai, and Rameswaram to Kanyakumari to offer Puja here.
A good number of people from Sri Lanka, Marutious, Fiji, Surinam, and other parts of the world turn to the temple located in a peaceful atmosphere covered with green tea Estates from all sides.
The first thing that will surprise one is – Bells, bells, bells everywhere,  known as the mandir wala bells, in copper, brass, and aluminum, in sizes small as a pebble, others quite big and solid, weighing anything between 50 grams to 55 kg. Some rusty with time and the rains, others shining like gold in the sun. All strung together in heaps from iron bars, creating, unintentionally, a sculptural bouquet, a stunning one with a visual one's eyes are not ready for. Not just these, there are thousands of others lying in the corner of the complex forming a metal mountain.
Each of these bells represents that a wish has been fulfilled.
It's unbelievable that a temple that has such a powerful influence among millions is located in a place that has no grandstanding, isolated in a tea territory, in so very unassuming circumstances, and with no extravagant physical proportions. Unlike a North Indian temple, this one isn't draped in silk and gold and ritualistic extravaganza. There are no architectural splendor or artistic details of temple craftsmen. There are no statues or idols also. There are also no touts, no crowds, no commercial shops, no loudspeakers belting out devotional songs, and no traffic jams.
This is mesmerizing that there are no loudspeakers on the campus or outside or traffic jams or undisciplined crowds. Last month a building was inaugurated to live in for the pilgrims who come from far away. 
Tilinga Mandir, a Shiv temple in Tinsukia district of Assam – tilinga meaning "bell" in Assamese language.
Tiling a Mandir has  the sacred banyan tree
Spiritually and mystically strong. There is a myth that a saint was living under the tree for more than 700 years and when left his body for his heavenly abode wished that those who come with faith and respect here his or her wish would be fulfilled. One is amazed by the sheer volume of bells dangling from everywhere. For many years, bells were tied around the branches of the big banyan tree (pipal), but when the tree couldn't take the weight anymore and started to die, environmental activists stepped in to save the tree, and from then on, people have been tying bells around the iron bars specially erected for this. The temple itself has three bell-shaped domes each smaller than the other (from left to right) so that when you look from the front, it looks just like a single bell where thousands of pigeons fly. No one hurt the birds.
The route to Tilinga Mandir is very scenic with forests and tea gardens
So how did this temple and the belief around it happen? Another folk tale goes that nearly half a century ago, in 1965, the tea garden workers noticed a black rock in the shape of Shiva Lingam emerging from the ground near a Banyan tree. It was unearthed and nestled among the roots of the peepal tree (banyan). Over the years, people have discovered its mysterious power: Make a wish and it will be granted. And when it is done, you show your appreciation by hanging a bell on the bars. People also present pigeons and tridents (trishuls)there.
A visit to this temple also comes with several sightseeing opportunities around Dibrugarh and Tinsukia. Dibrugarh, the nearest airport, is connected by daily flights from New Delhi, Bangalore, Kolkata, and Mumbai. If you are traveling by train, you have the Brahmaputra Express, Rajdhani, and other trains that connect to Tinsukia, the nearest railway station.
Remarkably, If you ask someone about the most famous temple in the Tinsukia district which one must visit, the local people will suggest- Tilinga Mandir. 
But only Puja will not do, just sit peacefully and meditate in the Mandir premises and feel divine – Om Namah Shivay.
Liliana Goldsmith, a tourist from Nagaland said, " There is something here one can't write, just come to Tilinga Mandir and feel. I belong to a different faith but I respect and also have great faith in the Hindu religion and its religious pilgrimage. "