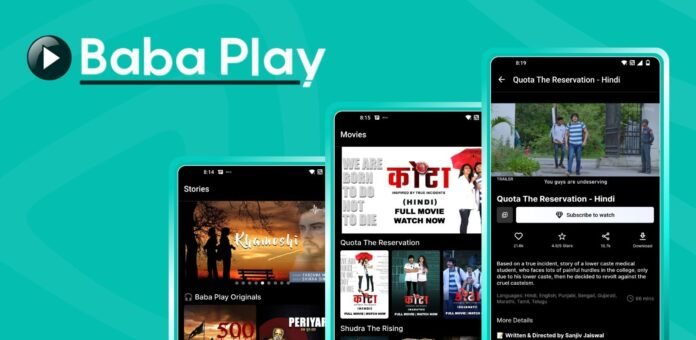 Mumbai, India – May 20, 2023 – BabaPlay, a well-known OTT (Over-the-Top) streaming platform, has recently announced its intention to sell its business after facing significant financial losses. The company's management, led by esteemed writer, director, and owner Sanjiv Jaiswal, has entered into negotiations with a prominent OTT company to facilitate a smooth acquisition and ensure a seamless transition for its loyal customer base.
Sanjiv Jaiswal, known for his highly controversial movies "Shudra the Rising" and "Quota the Reservation," originally launched BabaPlay with the noble aim of spreading the ideology of Baba Saheb worldwide. The primary objective of the platform was to empower the Dalit community and disseminate the profound teachings of Dalit Mahatmas to a global audience. However, after two years of operation, Sanjiv expressed his disappointment with the platform's performance, citing a lack of widespread societal support and a failure to expand the app's reach as contributing factors. Consequently, the decision was made to sell the platform in light of the significant financial losses incurred.
In recent years, BabaPlay has become a popular choice for consumers seeking diverse and engaging content. The platform garnered a growing user base, thanks to its wide range of movies, TV shows, and documentaries that catered to various tastes and preferences. However, despite this growth, BabaPlay faced challenges in maintaining profitability. These financial struggles have now prompted the decision to sell the platform and merge it with another established OTT company, allowing both entities to leverage their strengths and enhance the overall user experience.
The two companies are currently in advanced stages of negotiation, working diligently to secure a mutually beneficial agreement. The acquisition aims to combine the extensive content libraries and technical capabilities of both platforms, providing subscribers with an even more comprehensive range of entertainment audio and video content. This strategic move will ensure that BabaPlay's existing user base seamlessly transitions to the new platform, where they can enjoy an enhanced streaming experience with an expanded library of content.
Upon completion of the acquisition, the merged company plans to continue expanding its content offerings, investing in new technologies, and building strategic partnerships to further solidify its position in the increasingly competitive OTT market. By capitalizing on the combined resources and expertise of both platforms, the new entity aspires to provide users with a captivating and immersive entertainment experience.
More information about the acquisition, including the name of the acquiring company and the expected timeline for the transition, will be disclosed in the coming weeks as the deal progresses. This acquisition opens up new possibilities for achieving those goals on a larger scale.