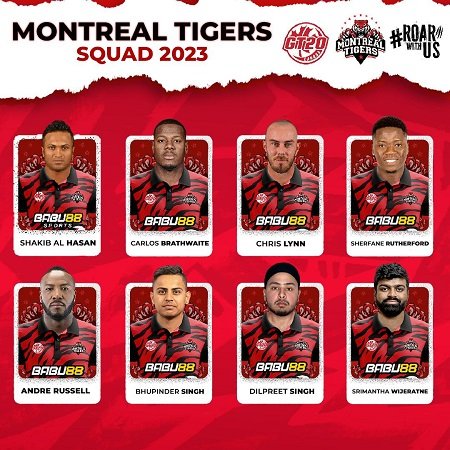 The much-anticipated GT20 Canada 2023, North Americas first major cricket league will find Babu88 as the proud sponsor of the Montreal Tigers. This cricket tournament, featuring six formidable teams and some of the biggest superstars of the game, is set to ignite the pitch from July 20th to August 6th, 2023 across 25 thrilling matches.
Montreal Tigers Squad
Babu88 is ready to roar alongside the Montreal Tigers with upcoming matches taking place at the TD Cricket Arena in Brampton Sports Park. This will be the first official partnership and cricket team sponsorship by major entertainment platform Babu88.
This partnership is a testament to Babu88s commitment to support and promote exceptional sporting talents while giving fans an opportunity to engage intimately with the game.
Montreal Tigers Coach Dav Whatmore expressed great confidence in his squad as they gear up for the upcoming tournament. Adorned in bold red and black stripes, the Tigers boast a strong line-up of headliners such as Andre Russel, Shakib Al Hassan, Chris Lynn, Sherfane Rutherford, and Carlos Brathwaite.
"We are fans of their game plan and the teams 2023 squad lineup," said Benjamin Harris, spokesperson at Babu88. "This collaboration goes beyond just a sponsorship as it symbolizes our mutual commitment to crickets highest standards of performance, sportsmanship, and innovation."
About Babu88
Babu88 is a comprehensive online retail bookmaker and successful digital sports and entertainment betting platform. The aim is to provide an exceptional gaming experience to all users, offering sports betting on various events including but not limited to cricket.
As a responsible business, Babu88 is committed to championing and promoting responsible gambling. This includes but not limited to ensuring the integrity and fairness of operations and to promote awareness of the harms associated with gambling. I-Gaming should only be done in moderation as a form of adult entertainment.
​