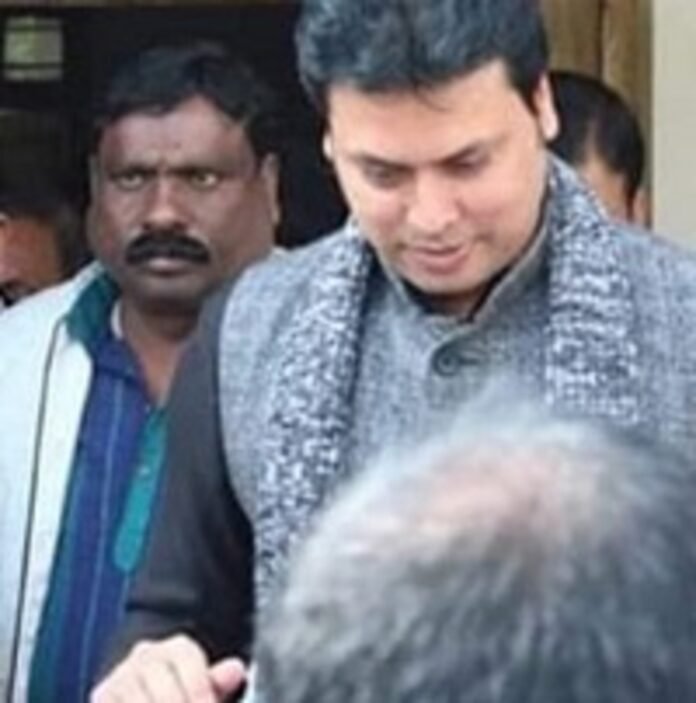 Belonia was once again gripped by political turmoil as Manik Das, popularly known as 'Kala Manik,' was granted temporary bail by the magistrate's court on health grounds. However, he has been instructed to appear in court again on Friday, May 26th. 'Kala Manik' appeared in court today, where he received the temporary bail due to health reasons.
According to police sources, several non-bailable sections of the Indian Penal Code (IPC), including sections 448, 452, 325, 307, 382, 506, 354, and 120 (B), have been invoked against Manik Das and his associates. The court granted a two-day remand for the accomplices of 'Kala Manik,' who are not currently on bail. One of the accused, Chandan Das, who is a close associate of 'Kala Manik,' is currently absconding. Sources in Belonia revealed that 'Kala Manik,' or Manik Das, was once a close follower of former Chief Minister Biplab Kumar Deb.
In the midst of these legal proceedings, Jaydip Saha, the main complainant against 'Kala Manik' and the secretary of Belonia's 'Yuba Morcha' within the BJP, expressed his determination to see the end of the 'Kala Manik' case and put an end to his alleged wrongdoings, even against fellow party members.
It is important to understand the backdrop of the escalating tensions in Belonia, where factional feuds within the local BJP have created a climate of violence and lawlessness. What initially began as a clash between two rival BJP factions, each vying for control and the benefits of illegal activities and extortion, has now resulted in significant unrest within the community.
Belonia has witnessed a surge in drug peddling and extortion over the past five years, with the BJP previously targeting the opposition CPI(M). However, as the power dynamics within the BJP shifted, internal conflicts emerged, leading to fierce battles over the distribution of illicit gains. This has not only created a sense of insecurity and fear among the residents but has also tarnished the image of the ruling party.
While 'Kala Manik' was granted temporary bail, it is crucial for the judicial process to run its course and ensure that justice is served. The authorities must address the root causes of these conflicts within the party, cracking down on illegal activities and promoting accountability within the political structure. The chief minister, Dr. Manik Saha, and the top leadership of the BJP must take decisive action to restore law and order, instill public confidence, and prevent further damage to the party's reputation.
As the 'Kala Manik' case progresses, it will be crucial to closely monitor the developments and examine the impact of these events on the political landscape of Belonia. The local community, already weary of the ongoing violence and lawlessness, hopes for swift and fair resolutions that will bring an end to the current unrest and restore peace and stability in the region.