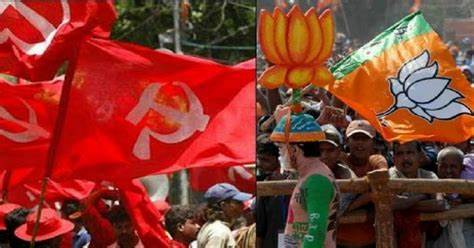 In the Badharghat assembly constituency, located south of Agartala town, political terror persists despite a change in the incumbency of MLA ship. According to delayed reports, miscreants believed to be affiliated with the ruling Bharatiya Janata Party (BJP) indiscriminately attacked and vandalized the homes of opposition Communist Party of India (Marxist) (CPI(M)) workers, leaders, and supporters.
The house of Shyamal Roy, a local committee member of CPI(M) in AD Nagar, was continuously bombed for a long time on Thursday night, as per sources in the CPI(M). It is reported that Roy's residence has been repeatedly targeted with bomb attacks and other forms of violence by BJP miscreants in the area since March 3, 2018. Despite the attacks, Roy has remained steadfast in his party activities and has not left his home.
On the night of the incident, a large number of BJP miscreants allegedly reached the front side of Shyamal Roy's house and hurled bombs, creating fear among the residents and local people. Shockingly, this happened in the presence of police personnel who took no action to stop the bomb hurling. The miscreants were reported to have come from AD Nagar road no-6 area to the Badharghat Matri Pally area to carry out the mischief. Similar incidents of mischief by these miscreants have been reported in the past, but despite complaints, no action has been taken by the police.
The CPI(M) has alleged that the attacks on Roy's home and other opposition workers' homes are carried out by BJP miscreants with impunity, indicating a continuation of political terror in the region. The situation raises concerns about the safety and security of opposition party members and the failure of law enforcement authorities to take effective action against the perpetrators. The ongoing political tensions in Badharghat underscore the need for peaceful and democratic means of political engagement, free from violence and intimidation.