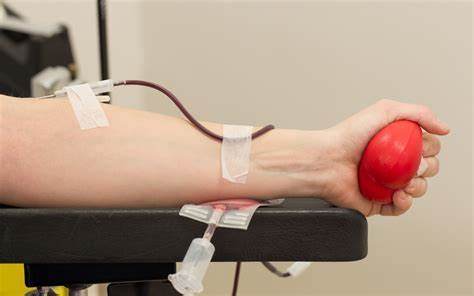 A voluntary blood donation camp was held on Saturday under the initiative of New City Students Club. The blood donation program was inaugurated by prominent philanthropist Rajeev Bhattacharya, Mayor of Agartala Municipal Corporation Deepak Majumdar, former MLA of the area Dilip Kumar Das and others.
Officially inaugurating the Blood Donation Camp organized by New Nagar Chhatra Brind Club, BJP State President Eminent Philanthropist Rajiv Bhattacharya congratulated the club officials and all the members for organizing such Blood Donation Camp. He called upon the officers and members of the club to come forward not only to donate blood but also to keep the environment of the area clean Rajiv Babu said that after the BJP-led government was formed for the second time, the first challenge for the government was to eliminate the blood shortage.
After taking over the charge of the Chief Minister of the state, he called on various clubs and voluntary organizations to come forward to donate blood to alleviate the shortage of blood in the blood banks of the state. Following the call, BJP is organizing blood donation camps at different places Besides, he expressed his gratitude and congratulations to all concerned for coming forward for such blood donation camp, including New Nagar Chhatra Brind Club and various clubs and voluntary organizations.