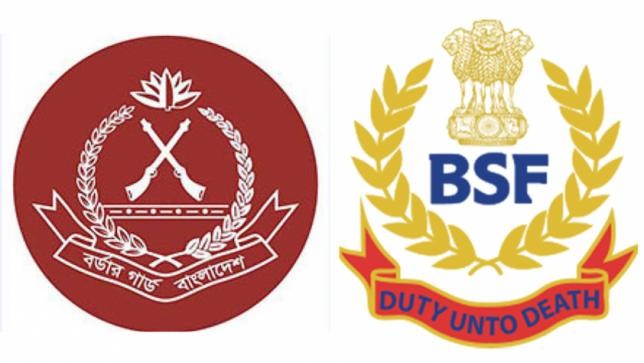 A three-day border coordination meeting between Border Security Force (BSF) and Border Guard Bangladesh (BGB) concluded in Agartala on Friday. In that meeting, both forces decided to help each other in border security for mutual benefit.
In a joint press conference held at BSF Tripura Frontier Headquarters, IG BSF Tripura Frontier Sumit Sharan said that various issues of bilateral interest were discussed at length during the meeting which would pave the way for increased understanding and cooperation between the two border guarding forces.
Special emphasis was placed on various cross-border crimes including extremism, smuggling of contraband like narcotics, infiltration. Pending development works and integrated border management plan were also discussed, he added. He said, along with BSF and BGB soldiers, there was also a discussion on building trust between the local people on both sides.
Saran also spoke of the good relations between the forces and claimed that relations between the border guards have improved in recent years.
According to him, the Border Guard Forces of India and Bangladesh are reaching new heights in their increasingly friendly relationship by participating in various coordination meetings at various levels including Inspector General, BSF-Region Commander, BGB level border coordination meetings at regular intervals of six months. Over the past few years BSF and BGB have not only strengthened their bond of friendship but initiated a high level of mutual trust and cooperation to resolve bilateral border issues through meaningful discussions at various command levels, claimed IG BSF.
Border Guards Regional Commander, Southeast Region of Bangladesh, Tanveer Gani Chowdhury led the 13-member BGB delegation. He said both forces will work in close coordination to eliminate border killings.
His speech recalled the contribution of Agartala and the Indian Border Guards who fought valiantly shoulder to shoulder with the freedom fighters for the freedom of Bangladesh. Chowdhury said that BGB and BSF have been given the responsibility of maintaining peace and harmony in the border areas. During the meeting we exchanged our views in a friendly atmosphere with a view to strengthening border security.
According to him, some issues were discussed in depth and it was decided that we will work together to fight crimes like arms smuggling and smuggling. Both the forces have also promised to reduce border killings to zero. We have decided to start taking tough measures against radical activities and illegal drug trafficking. According to him, both forces have pledged to share valuable information on criminal activities, accelerate development projects and identify sensitive areas.